My Weird School Daze 12-Book Box Set: Books 1-12 (Paperback)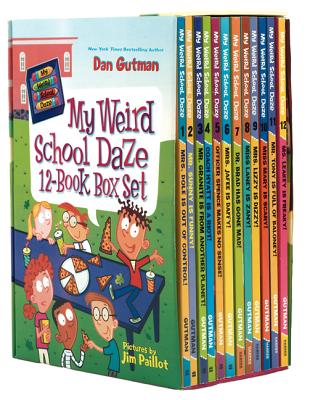 $58.88
Ships to our store in 3-8 Days
Description
---
Twelve chapter books in one great box! With more than 12 million books sold, bestselling author Dan Gutman's My Weird School series really gets kids reading.
Things have gotten weirder! From a zany graduation ceremony to the off-the-wall antics of their new third-grade teacher, A.J. and the gang from Ella Mentry School have had some weird and wacky adventures. Now all twelve books in the bestselling My Weird School Daze series are together in one box. This collection is perfect for classrooms and includes:
#1 Mrs. Dole Is Out of Control!
#2 Mr. Sunny Is Funny!
#3 Mr. Granite Is from Another Planet!
#4 Coach Hyatt Is a Riot!
#5 Officer Spence Makes No Sense!
#6 Mrs. Jaffee Is Daffy!
#7 Dr. Brad Has Gone Mad!
#8 Miss Laney Is Zany!
#9 Mrs. Lizzy Is Dizzy!
#10 Miss Mary Is Scary!
#11 Mr. Tony Is Full of Baloney!
#12 Ms. Leakey Is Freaky!
Perfect for reluctant readers and word lovers alike, Dan Gutman's hugely popular My Weird School series has something for everyone. Don't miss the hilarious adventures of A.J. and the gang.
About the Author
---
Dan Gutman is the New York Times bestselling author of the Genius Files series; the Baseball Card Adventure series, which has sold more than 1.5 million copies around the world; and the My Weird School series, which has sold more than 12 million copies. Thanks to his many fans who voted in their classrooms, Dan has received nineteen state book awards and ninety-two state book award nominations. He lives in New York City with his wife, Nina. You can visit him online at www.dangutman.com.
Jim Paillot lives in Arizona (another weird place) with his weird wife and two weird children. Isn't that weird? You can visit him on his weird website at www.jimpaillot.com