The Seven or Eight Deaths of Stella Fortuna: A Novel (Paperback)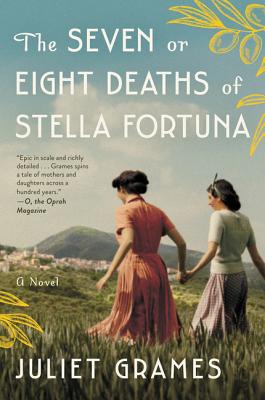 Staff Reviews
---
The Seven or Eight Deaths of Stella Fortuna is a fantastic family drama which starts in a remote Italian village just before WWI, and moves to Hartford, Connecticut at the start of WWII.  Stella Fortuna's life is so tragic that at times you will wish that one of these near-death experiences would finally take her away.  Thankfully, she survives them all and lives to see a most satisfying conclusion.  The cast of characters is well developed, each location and time period is thoughtfully described, and the seven or eight deaths run from mundane to purely magical.  A must read for book clubs, fans of historical fiction, and those who appreciate the extraordinary tales of ordinary women's lives.
— Meghan H
Though Stella's story is one about a family emigrating to the US from a rural Italian village, the themes are universal: the complex family ties that bind us, personal histories that divide us, and the wandering, storied family trees that bring us all to where we are.
— Audrey
May 2019 Indie Next List
---
"Stella Fortuna: With a name like this, she should not be subjected to so many near-death accidents. Is she unlucky or cursed? Juliet Grames does a masterful job of parsing out Stella's story, from growing up in an isolated mountain village to immigrating to America and navigating the perils of a patriarchal society along the way. This story explores familial bonds, discontentment, betrayal, and the damage of keeping secrets. Readers, get comfortable because you will not want to put this book down. I loved Stella."
— Patricia Moody, Hickory Stick Bookshop, Washington Depot, CT
Summer 2020 Reading Group Indie Next List
---
"Stella Fortuna is a strong and stubborn woman who resists the toxicity and rigorous expectations of her time. The many near-deaths of Stella add a fantastical and heightened fairy-tale-like framework to what is actually a very authentic and well-researched tale inspired by true events. This novel is both a lovingly crafted tribute to and a stern critique of the author's heritage."
— Matt Stowe, Greenlight Bookstore, Brooklyn, NY
Description
---
From Calabria to Connecticut: a sweeping family saga about sisterhood, secrets, Italian immigration, the American dream, and one woman's tenacious fight against her own fate
For Stella Fortuna, death has always been a part of life. Stella's childhood is full of strange, life-threatening incidents—moments where ordinary situations like cooking eggplant or feeding the pigs inexplicably take lethal turns. Even Stella's own mother is convinced that her daughter is cursed or haunted.
In her rugged Italian village, Stella is considered an oddity—beautiful and smart, insolent and cold. Stella uses her peculiar toughness to protect her slower, plainer baby sister Tina from life's harshest realities. But she also provokes the ire of her father Antonio: a man who demands subservience from women and whose greatest gift to his family is his absence.
When the Fortunas emigrate to America on the cusp of World War II, Stella and Tina must come of age side-by-side in a hostile new world with strict expectations for each of them. Soon Stella learns that her survival is worthless without the one thing her family will deny her at any cost: her independence.
In present-day Connecticut, one family member tells this heartrending story, determined to understand the persisting rift between the now-elderly Stella and Tina. A richly told debut, The Seven or Eight Deaths of Stella Fortuna is a tale of family transgressions as ancient and twisted as the olive branch that could heal them.
"Witty and deeply felt." —Entertainment Weekly (New and Notable)
"The Seven or Eight Deaths of Stella Fortuna achieves what no sweeping history lesson about American immigrants could: It brings to life a woman that time and history would have ignored." —Washington Post
About the Author
---
Juliet Grames was born in Hartford, Connecticut, and grew up in a tight-knit Italian-American family. A book editor, she has spent the last decade at Soho Press, where she is associate publisher and curator of the Soho Crime imprint. This is her first novel.
Praise For…
---
"[A] meaty family saga set in Calabria and Connecticut, crossing two centuries and five generations.... In conjuring this absorbing life, Grames has created a satisfying doorstop of a book, rich in detail, tightly written and delightfully easy to get lost in."
— New York Times Book Review

"'The Seven or Eight Deaths of Stella Fortuna' achieves what no sweeping history lesson about American immigrants could: It brings to life a woman that time and history would have ignored."
— Washington Post

"Epic in scale and richly detailed.... Grames holds the reader under a spell from start to finish as she constructs a puzzle of identity formed against convention.... Grames's clear and compassionate voice lets the figures of her heritage move freely."
— O, the Oprah Magazine

"If you're going through Elena Ferrante withdrawals, this is the book for you. A rich, sweeping tale of an Italian-American family and their long-buried secrets."
— Harper's Bazaar

"Grames' witty and deeply felt family saga begins in a pre-WWII Italian village, where young Stella Fortuna learns the hard truths of life (and death) as she grows up with an abusive father and immigrates with her family to the U.S."
— Entertainment Weekly

"As Stella strives to prove herself among the many messy and aggressive men in her life, Grames uses her heroine's story to reflect on motherhood, inherited trauma and survival."
— Time

"Remarkable.... A rich tale blending fiction with family history, one that celebrates the Calabrese culture in Italy as well as the immigrant experience of diverse cultures in America.... This compelling intergenerational tale is intelligently written."
— Forbes

"Immersive."
— Newsday

"This debut novel...follows one fascinating family as they make their way from Italy to America on the brink of the Second World War, only to find that some problems—often ones that have to do with who you are and who you're related to—aren't so easy to outrun."
— Town & Country

"Unputdownable…. This is a book that cuts to the core of what it means to struggle in a new place, to fight for a family you love…. The writing is so good and the book flows along seamlessly, revealing a mastery of storytelling, sense of place, a touch of magical realism, and unforgettable characters that you will love and hate…. This is a book worth getting lost in."
— Jackson Clarion-Ledger

"This is a novel people will be talking about for years to come."
— Providence Journal

"A poignant debut novel."
— AARP Magazine

"Takes a sprawling approach to several decades of American history, exploring the life of a woman whose proximity to death is far greater than most of her peers. Grames incorporates themes of immigration and inter-generational conflict into her work, creating a powerful and resonant work."
— Vol 1Brooklyn

"A masterwork that will rightfully draw comparisons with Isabel Allende's The House Of The Spirits and Gabriel Garcia Marquez's One Hundred Years Of Solitude.... An unflinching portrayal of a truly remarkable woman and the life she builds for herself."
— Criminal Element

"Entrancing.... Grames' debut will find broad appeal as both an illuminating historical saga and a vivid portrait of a strong woman struggling to break free from the confines of her gender."
— BookPage

"[A] vivid and moving debut.... With her story of an "ordinary" woman who is anything but, Grames explores not just the immigrant experience but the stages of a woman's life. This is a sharp and richly satisfying novel."
— Publishers Weekly (starred review)

"Fictionalized details from the life of the author's own grandmother inspire this tale of an Italian American family and the complicated woman at its heart.... Readers who appreciate narratives driven by vivid characterization and family secrets will find much to enjoy here.... [Grames is] an author to watch."
— Booklist

"Juliet Grames has written a magnificent debut, creating a deeply felt, richly imagined world based upon her family history. The dark beauty of Calabria and the promise of America sets the stage for Stella's volatile life.... Moody, original and profound."
— Adriana Trigiani, bestselling author of Tony's Wife

"Reading The Seven or Eight Deaths of Stella Fortuna is like listening to the rollicking stories of your Italian grandmother— full of memorable characters and speckled with fascinating bits of history. This is a fantastic and timely family story."
— Jessica Shattuck, bestselling author of The Women in the Castle

"Juliet Grames has delved into the family secrets of an Italian American family and the ways in which those secrets, as well as slights and injustices, can both cross oceans and trickle down through the generations. This quintessential American immigrant story feels important right now, and I highly recommend it."
— Lisa See, author of Snow Flower and the Secret Fan and The Tea Girl of Hummingbird Lane

"The Seven or Eight Deaths of Stella Fortuna  is a novel you can't put down. Above all, I envied its sureness, an effortless control remarkable in a debut novel, in which the shrewd and humorous confidence of the narrator's voice powers a breakout saga of immigration and familial love."
— Gina Apostol, author of Insurrecto