Baseball Card Adventures 3-Book Box Set: Honus & Me, Jackie & Me, Babe & Me (Paperback)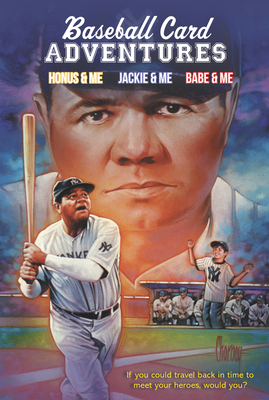 Description
---
Three fan favorites from the sensational Baseball Card Adventures series, which has sold more than 2 million books, are now together in one box set!
Twelve-year-old Joe "Stosh" Stoshack has an amazing ability. He can travel through time using baseball cards!
With the help of his power, Joe heads back to meet some of the greatest baseball players of all time. Whether it's seeing Babe Ruth's famous "called shot" home run up close, asking Jackie Robinson what it was like to break baseball's color barrier, or watching Honus Wagner play in the 1909 World Series, Joe gets right to the heart of baseball's biggest moments.
With black-and-white photographs and stats throughout the books, plus back matter separating fact from fiction, New York Times bestselling author Dan Gutman's Baseball Card Adventures bring some of the greatest players in American history to life.
This box set includes three favorites from the series:
Jackie & Me
Babe & Me
Honus & Me
About the Author
---
Dan Gutman is the New York Times bestselling author of the Genius Files series; the Baseball Card Adventure series, which has sold more than 1.5 million copies around the world; and the My Weird School series, which has sold more than 30 million copies. Thanks to his many fans who voted in their classrooms, Dan has received nineteen state book awards and ninety-two state book award nominations. He lives in New York City with his wife. You can visit him online at www.dangutman.com.