One for the Murphys (Paperback)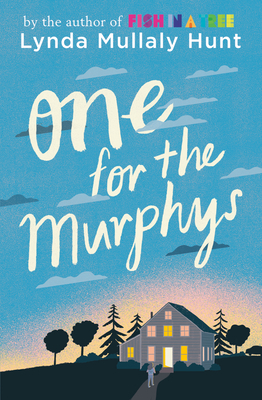 $8.99

Available at One of Our Locations
Staff Reviews
---
One for the Murphys is a heartwarming book set right here in Glastonbury!
Description
---
From the author of the New York Times bestselling novel Fish in a Tree! 

Carley uses humor and street smarts to keep her emotional walls high and thick. But the day she becomes a foster child, and moves in with the Murphys, she's blindsided. This loving, bustling family shows Carley the stable family life she never thought existed, and she feels like an alien in their cookie-cutter-perfect household. Despite her resistance, the Murphys eventually show her what it feels like to belong--until her mother wants her back and Carley has to decide where and how to live. She's not really a Murphy, but the gifts they've given her have opened up a new future.

"Hunt's writing is fearless and One For The Murphys is a story that is at once compassionate, thought-provoking and beautifully told. From the first page, I was drawn into Carley's story. She is a character not to be missed or forgotten." —Jacqueline Woodson, National Book Award-winning author of Brown Girl Dreaming

Winner of the Tassy Walden Award for New Voice in Children's Literature
About the Author
---
Lynda Mullaly Hunt (www.lyndamullalyhunt.com) has received many honors for her debut novel, One for the Murphys, which is on over twenty state award lists, including Bank Street's 2013 Best Books of the Year. Her follow up novel, Fish in a Tree, is a New York Times bestseller and ALA Notable Children's Book. She's a former teacher, and holds writers retreats for the Society of Children's Book Writers and Illustrators. She lives in Connecticut with her husband, two children, impetuous beagle, and beagle-loathing cat.
Praise For…
---
"Hunt's writing is fearless and One For The Murphys is a story that is at once compassionate, thought-provoking and beautifully told. From the first page, I was drawn into Carley's story. She is a character not to be missed or forgotten." —Jacqueline Woodson, National Book Award-winning author of Brown Girl Dreaming

* "By the end of this poignant debut, readers will be applauding Carley's strength." —Kirkus Reviews, starred review

"Readers will be cheering her on." —Booklist

"This is a beautiful book, filled with hope. You'll cry and laugh along with Carley as she learns to lower her defenses enough to love--and, more surprisingly, be loved. It's a story you'll long remember." —Patricia Reilly Giff, Newbery Honor-winning author of Pictures of Hollis Woods and Lily's Crossing

"Undeniably affecting. Hunt's writing is strong and her characters well-developed and believable." —Publishers Weekly

"One for the Murphys is a riveting story…" —Examiner.com

"This novel speaks to the universal experience of growing up but will especially resonate with readers who have questioned the hands they have been dealt and wonder how to move forward nonetheless." —The Horn Book

"An astonishing debut! Lynda Mullaly Hunt's direct style of writing has readers rooting for Carley Connors and all of the Murphys from start to satisfying finish." —Leslie Connor, ALA Schneider Family Award-winning author of Waiting for Normal and Crunch

"An incredibly touching novel." —TheStorySiren.com

"Absolutely astonishing." —Bookalicious.org