The Road to Omaha: Hits, Hopes, and History at the College World Series (Paperback)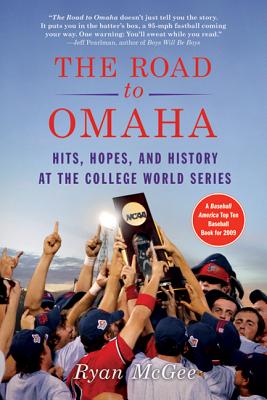 $23.99

Ships to our store in 3-8 Days
Description
---
In the spirit of Three Nights in August and The Last Night of the Yankee Dynasty, veteran sports writer Ryan McGee goes behind the scenes, into the stands, and onto the field to reveal an exciting yet personal look at one of the hottest sports championships in the country--the College World Series.

Every summer, college baseball teams from around the nation come to Omaha, Nebraska, to play pure move-the-man-over, run-manufacturing baseball in a series that's part college bowl game, part county fair. In 2008, the ten-day, eight-team tournament was the scene of one of the greatest series in its illustrious history. And Ryan McGee puts the reader behind closed doors with the underdog champs, the Fresno State Bulldogs, as well as with their seven opponents, from the first batting practice session, to bus rides to the ballpark, to the locker room and the dugout. It's the CWS as few ever see it.

But The Road to Omaha goes far beyond the 2008 season. It's an in-depth look at the managing strategies and playing style of college baseball, as well as a series of profiles that examine the people behind and around the CWS--the players, coaches, and fans who keep that feeling of good-old-days innocence alive through their reverence for the Great American Pastime.

McGee also takes up residence at Rosenblatt Stadium itself, reliving its rich history and tapping into the electricity around it, from the tailgating fans to the surrounding neighborhoods. "The Blatt" is America's last real connection to the baseball belief that Field of Dreams can actually happen: a wooden-framed ballpark with cramped concourses where teams share locker rooms, change clothes in the parking lot, and sign autographs for kids until their fingers cramp. "The Blatt" is a monument to tradition--and the last of its kind to keep that tradition alive.

Thanks to Ryan McGee's quick eye for play-by-play action, as well as his deep love for sports, The Road to Omaha is a rare glimpse into the kind of baseball our grandfather's knew--a snapshot of the one of the last remaining vestiges of pure Americana: a hometown, baseball, and the people who shape it and are shaped by it in turn.
About the Author
---
Ryan McGee has covered motorsports, college baseball and football, MLB, the NFL, the NBA, the PGA, and action sports for ESPN and FOXSports.com. He is a senior writer at ESPN The Magazine and has worked as a writer and producer for NASCAR Images. He's won two Sports Emmys with three other nominations, including his work on the film Dale, the only authorized biography of Dale Earnhardt. He lives in North Carolina with his family.
Praise For…
---
"Ryan McGee offers a fascinating look inside one of the best, and most underplayed, tournaments in sports, the College World Series. I learned something about the event on every page. It made me wonder why I've only been to Omaha once." —Tim Kurkjian, ESPN analyst and author of Is This A Great Game or What?

"There is no more enrapturing event in American sports than the College World Series. And no writer has captured the energy and passion and thrill of the Omaha experience better than Ryan McGee. The Road to Omaha doesn't just tell you the story. It puts you in the batters box, a ninety-five-mph fastball coming your way. One warning: You'll sweat while you read." —Jeff Pearlman author of Boys Will Be Boys: The Glory Days and Party Nights of the Dallas Cowboys Dynasty

"Ryan McGee made me feel like I was there in the sunshine at Rosenblatt Stadium. But by the time I was done, I wondered: Why haven't I been here before? This is great!" —Richard Ben Cramer, author of Joe DiMaggio: The Hero's Life

"The on-field action was gripping--Fresno State became the lowest seed ever to win--but Omaha goes deeper, delivering insights into how the college game is played and why the CWS and Nebraskan culture intertwine." —Sports Illustrated

"For less than the price of dinner at one of Omaha's famed steakhouses you can submerge yourself in the festival-like atmosphere of the CWS. . . . Each chapter weaves the history and pomp into a days' action at Rosenblatt Stadium." —BaseballAmerica.com