A Perfect Mess: The Hidden Benefits of Disorder--How Crammed Closets, Cluttered Offices, and On-the-Fly Planning Make the World a Better Place (Paperback)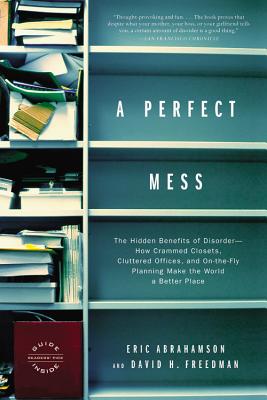 Description
---
Ever since Einstein's study of Brownian Motion, scientists have understood that a little disorder can actually make systems more effective. But most people still shun disorder-or suffer guilt over the mess they can't avoid. No longer! With a spectacular array of true stories and case studies of the hidden benefits of mess, A Perfect Mess overturns the accepted wisdom that tight schedules, organization, neatness, and consistency are the keys to success.

Drawing on examples from business, parenting, cooking, the war on terrorism, retail, and even the meteoric career of Arnold Schwarzenegger, coauthors Abrahmson and Freedman demonstrate that moderately messy systems use resources more efficiently, yield better solutions, and are harder to break than neat ones.Applying this idea on scales both large (government, society) and small (desktops, garages), A Perfect Mess uncovers all the ways messiness can trump neatness, and will help you assess the right amount of disorder for any system.

Whether it's your company's management plan or your hallway closet that bedevils you, this book will show you why to say yes to mess.
About the Author
---
Eric Abrahamson is a professor of management at Columbia University's School of Business, and author of Change Without Pain.

David H. Freedman is the author of three books, and is a business and science journalist who has written for The Atlantic Monthly, Newsweek, and Wired, among others. Abrahamson lives in New York, and Freedman in Massachusetts.