A Galaxy of Sea Stars (Hardcover)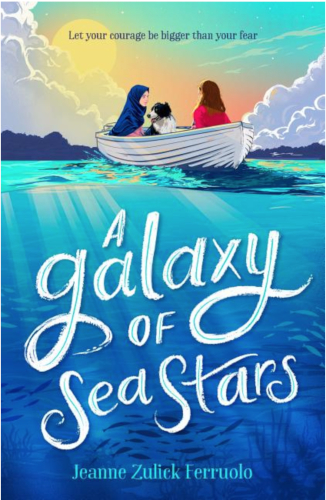 Staff Reviews
---
At times this novel had me in tears because it so perfectly captures the complex emotions that go along with 6th grade.  Izzy is dealing with huge changes at home, and she doesn't understand why her best friends, The Sea Stars, aren't getting along.  You'll cringe at her mistakes, and cheer over her triumphs.  Ulitmately it leaves you feeling proud that she has figured out who she is and what it means to be a true friend.  
— Meghan
Description
---
A Galaxy of Sea Stars is Jeanne Zulick Ferruolo's second middle-grade novel—a heartwarming story about family, loyalty, and the hard choices we face in the name of friendship.

Sometimes, the truth isn't easy to see. Sometimes, you have to look below the surface to find it.

Eleven-year-old Izzy feels as though her whole world is shifting, and she doesn't like it. She wants her dad to act like he did before he was deployed to Afghanistan. She wants her mom to live with them at the marina where they've moved instead of spending all her time on Block Island. Most of all, she wants Piper, Zelda, and herself—the Sea Stars—to stay best friends, as they start sixth grade in a new school.

Everything changes when Izzy's father invites his former interpreter's family, including eleven-year-old Sitara, to move into the marina's upstairs apartment. Izzy doesn't know what to make of Sitara—with her hijab and refusal to eat cafeteria food—and her presence disrupts the Sea Stars. But in Sitara Izzy finds someone brave, someone daring, someone who isn't as afraid as Izzy is to use her voice and speak up for herself. As Izzy and Sitara grow closer, Izzy must make a choice: stay in her comfort zone and risk betraying her new friend, or speak up and lose the Sea Stars forever.
About the Author
---
Jeanne Zulick Ferruolo is the author of A Galaxy of Sea Stars and Ruby in the Sky, which earned two starred reviews and which Booklist called "quietly magical." She is also a volunteer with IRIS-Integrated Refugee & Immigrant Services (irisct.org) in New Haven, Connecticut. She lives in Ellington, Connecticut, with her family. jzulferr.com
Praise For…
---
"A solid choice for libraries where titles exploring xenophobia and immigrant experiences circulate well." —School Library Journal

Ruby in the Sky:

"The stories of the main characters intertwine beautifully, each one demonstrating the self-trust that enables them to do the right thing and to forgive. Writing in Ruby's voice, Ferruolo creates an engaging plot peopled with complex characters that gracefully navigate many issues of our time, including women's rights, immigration, prejudice and diversity, and bullying." —Kirkus Reviews, starred review

"Ferruolo's debut has a quietly magical feel, aided by passages describing Ruby's fascination with the moon. The faraway moon serves as a poignant theme throughout the book and connects satisfyingly to Abigail's backstory. The story also skillfully depicts everyday injustices and how those in power control the narrative unless ordinary people stand up against them." —Booklist, starred review