Hunting Trips of a Ranchman & The Wilderness Hunter (Modern Library Classics) (Paperback)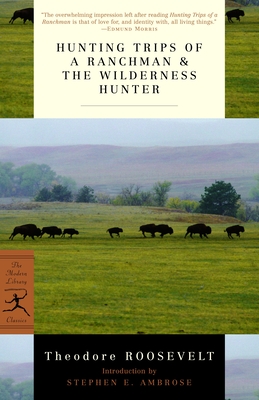 Description
---
Written during his days as a ranchman in the Dakota Bad Lands, these two wilderness tales by Theodore Roosevelt endure today as part of the classic folklore of the West. The narratives provide vivid portraits of the land as well as the people and animals that inhabited it, underscoring Roosevelt's abiding concerns as a naturalist.

Originally published in 1885, Hunting Trips of a Ranchman chronicles Roosevelt's adventures tracking a twelve-hundred-pound grizzly bear in the pine forests of the Bighorn Mountains.  Yet some of the best sections are those in which Roosevelt muses on the beauty of the Bad Lands and the simple pleasures of ranch life.  The British Spectator said the book "could claim an honorable place on the same shelf as Walton's Compleat Angler."  The Wilderness Hunter, which came out in 1893, remains perhaps the most detailed account of the grizzly bear ever recorded.   Introduction by Stephen E. Ambrose.
About the Author
---
Theodore Roosevelt was born on October 27, 1858, and became the twenty-sixth president of the United States. He was a naturalist, writer, historian, and soldier. He died in 1919.

Stephen E. Ambrose was the author or coauthor of more than 30 books on military affairs and foreign policy. Early in his career he was an associate editor of the Eisenhower papers, and he later went on to publish the definitive three-part biography of Eisenhower, as well as many bestselling books of military history, including Band of Brothers and Undaunted Courage. He died in 2002.