My Calabria: Rustic Family Cooking from Italy's Undiscovered South (Hardcover)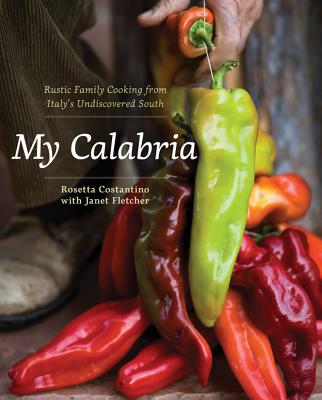 $49.50

Ships to our store in 3-8 Days
Description
---
Recipes for easily accessible, fresh-from-the-garden Italian food from a Calabrian native and "bountiful good cook" (The Atlantic).
At the tip of Italy's "boot" lies Calabria. It is a beautiful, mountainous region populated by fishermen and small farmers. Rosetta Costantino grew up in this rugged landscape—her father a shepherd and wine maker and her mother his tireless assistant.
When her family immigrated to California, they re-created a little Calabria on their property, cooking with eggplant, tomatoes, and peppers from their garden, fresh ricotta made from scratch, and pasta fashioned by hand. A frugal people, Calabrians are master preservers, transforming fresh figs into jam, canning fresh tuna in oil, and sun-drying peppers for the winter. Now Rosetta shares her family's story and introduces readers to the fiery simplicity of Calabrian food. The first cookbook of a little-known region of Italy,
My Calabria
celebrates the richness of the region's landscape and the allure of its cuisine. This is a cookbook for our time: a reminder of how ingenious and resourceful cooks can create a gorgeous local cuisine.
About the Author
---
Born and raised in Verbicaro, Calabria, Rosetta Costantino teaches cooking classes and lives in Oakland, California.

Janet Fletcher, a columnist for the San Francisco Chronicle, is the author of numerous books on food and wine. She lives in Napa Valley.
Praise For…
---
Starred Review. Recipes such as sagne chine (Calabrese lasagne), vruocculi ca' savuzuizza (sausage and broccoli rabe), and pipi 'mpajanati (sweet pepper fritters) highlight this brilliant, comprehensive cookbook... Costantino certainly digs deep into the cuisine, highlighting authentic recipes along with an insightful narrative.... Costantino's cookbook offers home cooks a delightful journey along the toe of Italy's boot.
— Publishers Weekly