Jane Austen's Pride and Prejudice: A Book-to-Table Classic (Puffin Plated) (Hardcover)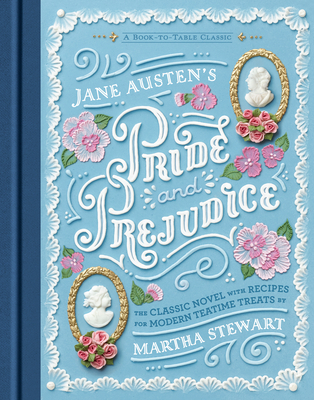 $25.00
Please contact us for more details
Description
---
Puffin Plated: A Book-to-Table Reading Experience

A deluxe, full-color hardback edition of the perennial Jane Austen classic featuring a selection of recipes for tea-time treats by the one and only Martha Stewart!

Have your book and eat it, too, with this clever edition of a classic novel, featuring delicious recipes from celebrity chefs. In this edition of Jane Austen's regency classic Pride and Prejudice, plan a fancy tea party or book club gathering with recipes for sweet confections and pastries. From maple glazed scones and delicate sugar and spice cake, to berry tartlets and French macaroons. Bring your friends and family together with a good meal and a good book!

Book includes full, unabridged text of Jane Austen's Pride and Prejudice, interspersed with recipes, food photography, and special food artwork.
About the Author
---
Jane Austen was born on December 16, 1775 at Steventon near Basingstoke, the seventh child of the rector of the parish. She lived with her family at Steventon until they moved to Bath when her father retired in 1801. After his death in 1805, she moved around with her mother; in 1809, they settled in Chawton, near Alton, Hampshire. Here she remained, except for a few visits to London, until in May 1817 she moved to Winchester to be near her doctor. There she died on July 18, 1817.
As a girl Jane Austen wrote stories, including burlesques of popular romances. Her works were only published after much revision, four novels being published in her lifetime. These are Sense and Sensibility (1811), Pride and Prejudice (1813), Mansfield Park (1814) and Emma (1816). Two other novels, Northanger Abbey and Persuasion, were published posthumously in 1818 with a biographical notice by her brother, Henry Austen, the first formal announcement of her authorship. Persuasion was written in a race against failing health in 1815-16. She also left two earlier compositions, a short epistolary novel, Lady Susan, and an unfinished novel, The Watsons. At the time of her death, she was working on a new novel, Sanditon, a fragmentary draft of which survives.