Charles Dickens's A Christmas Carol: A Book-to-Table Classic (Puffin Plated) (Hardcover)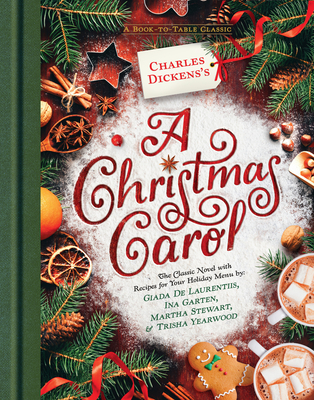 $25.00
Please contact us for more details
Description
---
Puffin Plated: A Book-to-Table Reading Experience.

A deluxe, full-color hardback edition of the perennial Christmas classic featuring a selection of recipes for your holiday table from Giada de Laurentiis, Ina Garten, Martha Stewart, and Trisha Yearwood!

Have your book and eat it, too, with this clever edition of Charles Dickens's A Christmas Carol featuring delicious recipes from celebrity chefs. Plan your perfect Christmas feast with a carefully curated menu of holiday dishes, from succulent baked ham to smashed root vegetables. And top it all off with fruitcake cookies and pecan pie. Celebrate the holiday with a good meal and a good book!

Book includes full, unabridged text of Charles Dickens' A Christmas Carol, interspersed with recipes, food photography, and special food artwork.
About the Author
---
Charles Dickens was born on February 7, 1812, in Landport, Portsea, England. He died in Kent on June 9, 1870. The second of eight children of a family continually plagued by debt, the young Dickens came to know not only hunger and privation,but also the horror of the infamous debtors' prison and the evils of child labor. A turn of fortune in the shape of a legacy brought release from the nightmare of prison and "slave" factories and afforded Dickens the opportunity of two years' formal schooling at Wellington House Academy. He worked as an attorney's clerk and newspaper reporter until his Sketches by Boz (1836) and The Pickwick Papers (1837) brought him the amazing and instant success that was to be his for the remainder of his life. In later years, the pressure of serial writing, editorial duties, lectures, and social commitments led to his separation from Catherine Hogarth after twenty-three years of marriage. It also hastened his death at the age of fifty-eight, when he was characteristically engaged in a multitude of work.