A History of the Theory of Investments: My Annotated Bibliography (Wiley Finance #335) (Hardcover)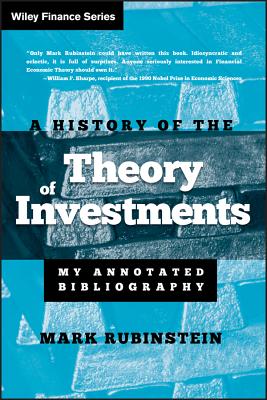 $100.00

Ships to our store in 3-8 Days
Description
---
This exceptional book provides valuable insights into the evolution of financial economics from the perspective of a major player.
-- Robert Litzenberger, Hopkinson Professor Emeritus of Investment Banking, Univ. of Pennsylvania; and retired partner, Goldman Sachs
A History of the Theory of Investments is about ideas -- where they come from, how they evolve, and why they are instrumental in preparing the future for new ideas. Author Mark Rubinstein writes history by rewriting history. In unearthing long-forgotten books and journals, he corrects past oversights to assign credit where credit is due and assembles a remarkable history that is unquestionable in its accuracy and unprecedented in its power.
Exploring key turning points in the development of investment theory, through the critical prism of award-winning investment theory and asset pricing expert Mark Rubinstein, this groundbreaking resource follows the chronological development of investment theory over centuries, exploring the inner workings of great theoretical breakthroughs while pointing out contributions made by often unsung contributors to some of investment's most influential ideas and models.
About the Author
---
MARK RUBINSTEIN is the Paul Stephens Professor of Applied Investment Analysis at the Haas School of Business at the University of California, Berkeley. He is best known for his work on derivatives and asset pricing. Rubinstein is also the author or coauthor of numerous books, including Options Markets, Derivatives: A PowerPlus Picture Book, and Rubinstein on Derivatives, and has won numerous prizes and awards for his research and writing on derivatives. He is a graduate of Harvard University, Stanford University, and the University of California at Los Angeles.