Bipolar Kids: Helping Your Child Find Calm in the Mood Storm (Hardcover)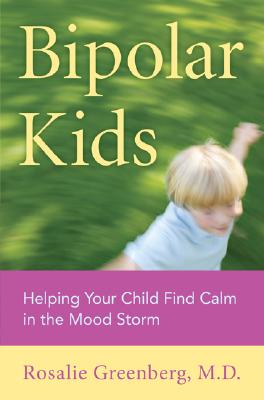 $26.00
Email or call for price
Description
---
Once considered an adult illness, bipolar disorder (manic depression) is one of the fastest growing categories in child psychiatry since ADHD, touching the lives of an estimated one million children. But often it goes misdiagnosed, and children can be prescribed medication that only worsens their condition. Parents are desperate for someone to guide the way through this difficult time. With her twenty-five years of clinical experience, child psychiatrist Rosalie Greenberg offers families a lifeline--a book filled with sage, practical, and reassuring advice for anyone struggling to help a child locate that elusive inner calm.With a revolutionary approach that sees the brilliance, the sweetness, the creativity in bipolar kids, Dr. Greenberg gathers their stories and their parents' stories to open a window onto these children who have for so long gone misunderstood. She walks readers through the different scenarios that may occur with bipolar kids, from daring manic phases to sudden periods of overwhelming sadness. She shows parents how best to navigate the peaks and valleys of bipolar disorder and provides them with the assurance that they need not tackle this illness alone. Most important, she encourages adults to listen to what children say through the maze of their mania and depression, for this can make all the difference in diagnosing and successfully managing bipolar disorder. Bipolar Kids offers parents welcome understanding, guidance, and most of all hope that their child, with the proper interventions, can lead a productive and successful life.
About the Author
---
Rosalie Greenberg, M.D., is a board-certified child and adult psychiatrist. An assistant professor of clinical psychiatry at Columbia University, she maintains a private practice in Summit, New Jersey.
Praise For…
---
LifeCoachBuzz.com, 10/30/08
"Greenberg offers parents and professionals alike an innovative approach to help bipolar youngsters locate that elusive inner calm…A masterful book that recognizes the brilliance and creativity in bipolar kids, it will give hope that every child can, with the proper interventions, lead a full, productive life."
Journal of the American Academy of Child and Adolescent Psychiatry, May 2011
"A very readable book and is quite well written for a general audience. Greenberg provides many real-life cases to illustrate her topics and concepts. She also describes medical terms and medications in ways that nonphysicians can understand."
—
-