Ferrari: Stories from Those Who Lived the Legend (Hardcover)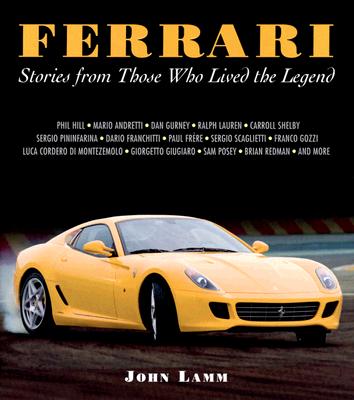 $66.00
Email or call for price
Description
---
No other cars embody automotive passion better than those produced by Ferrari. From the record-setting Formula One race cars produced by Scuderia Ferrari to the exquisite road cars created in Maranello, Italy, Ferrari has produced some of the most sensuous vehicles ever created.

Exquisitely illustrated, Ferrari: Stories from Those Who Lived the Legend tells the complete story of a car like no other. Sixty years after Ferrari blazed onto the scene, this big book takes us back to the world where the car was created. Master photographer and automotive writer John Lamm tells the Ferrari story through the words of the people who made the history. In extensive interviews with those who lived the story of Ferrari, from its founding days right up to our own, Lamm gives us a thrilling, behind-the-scenes look at how automotive history was made. Virtually an oral history of the world's most iconic sports car, Ferrari: Stories from Those Who Lived the Legend is also a treasury of historic and detailed modern images--what any reader lucky enough to open it up might expect--a hell of a ride.
Chapters include:
The 1940s
Ferrari in the 1940s

The 1950s
Production Cars
Robert M. Lee's First Ferrari
Antonio Chini
Chris Cord on the 410 Superfast
Sergio Pininfarina
Sports Racing Cars
Gino Munaron on the 750 Monza
Chris Cord on the 121 LM
Louis Klemantaski
Grand Prix

The 1960s
Production Cars
Sports Racing Cars
Paul Frere on Ferrari's Conservative Nature
Sergio Scaglietti on the 250 GTO
Carroll Shelby on the Ferrari-Ford Wars
John Surtees MBE and the 250 P
Eddie Smith and the NART Spider
Steven J. Earle
Grand Prix
Phil Hill and the 1961 Grand Prix Season
John Surtees MBE on Leaving Ferrari

The 1970s
Production Cars
John Morton
Ralph Lauren on Ferraris
Grand Touring and Sports Racing Cars
Sam Posey and the 512M
Brian Redman
Grand Prix
Mario Andretti
Brenda Vernor

The 1980s
Production Cars
Dario Franchitti and the F 40
Sam Posey & John Morton on Luigi Chinetti
Grand Prix
Mauro Forghieri on Gilles Villeneuve

The 1990s
Production Cars
Sports Racing Cars
Phil Hill's Obituary for Luigi Chinetti
Grand Prix
Luca Cordero di Montezemolo

The 2000s
Production Cars
Richard Losee and the Enzo
612 Scaglietti in China
Roberto Vaglietti
Patrick Hong on Testing Ferraris
Frank Stephenson and the Pininfarina Show Cars
Grand Prix
Luca Cordero di Montezemolo
About the Author
---
As a respected automotive journalist and photographer covering high-performance cars for Road & Track since 1975, author and photographer John Lamm has worked with and interviewed nearly every significant figure in Ferrari history. Lamm's work has won numerous awards including the International Motor Press Association's Ken Purdy award and the Motor Press Guild's Dean Batchelor prize. This is his 11th book. Lamm lives in San Clemente, California, with his wife Scheri.
Praise For…
---
Racecar.com, October 2007
"Meticulously researched and exquisitely illustrated,
Ferrari: Stories from Those Who Lived the Legend
tells the complete story of a car like no other … Featuring extensive interviews with those who created the story of Ferrari, including famed racers, star designers and celebrity owners. These firsthand tales join with historical photography and the beautiful images to make
Ferrari: Stories from Those Who Lived the Legend
like no other."
Favebot.com,November 2007
"A thrilling, behind-the-scenes look at how automotive history was made."

AAA New York Car & Travel, December 2007
"A superb coffee table book whose excellent photography, graphics and layout make it fascinating to flip through. The text gives a deep insight into the life and complex personality of Enzo Ferrari. Learn how Ferrari evolved from his early days as a race-car driver to becoming the creator of some of the most beautiful and successful sports and racing cars ever made. This is a must-have for Ferrari fans!"
Ferrarichat.com, Oct. 24, 2007
"Definitely one to add to your coffee table!"

Motorsportcollector.com, Sept. 28, 2007
"A great new 'coffee table' book for those of us who never get tired of looking at great photography."


AutoWeek, Nov. 26, 2007
"A couple of AutoWeek friends have new books out just in time for the holidays. We'd be glad to see either of these coffee-table tomes under the tree."