Collector's Originality Guide Pontiac GTO 1964-1974 (Paperback)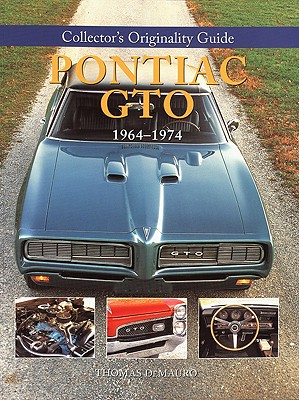 $27.49
Email or call for price.
Description
---
Collector's Originality Guide: Pontiac GTO 1964-1974 provides a bumper-to-bumper look at every component that makes the GTO a classic, from the distinctive taillights of the 1964 GTO to the Radial Tuned Suspension of the 1974 model. Year by year, component by component, you'll discover a comprehensive and useful guide on factory specifications for restoring, re-energizing, and simply admiring the pride of Pontiac.
About the Author
---
Thomas DeMauro has devoted his professional career to writing about and photographing the greatest muscle cars ever. DeMauro's written and photographic coverage of GTOs, Corvettes, Barracudas, Challengers, Mustangs, and more has been published in more than a dozen periodicals. He lives in New Jersey.
Praise For…
---
"This book offers a model-by-model history of the GTO including the Judge, which points out the mechanical and visual aspects of each one. You will see and learn about some very rare drivetrain combinations and seldom-seen individual options. Pertinent codes and/or casting numbers for the engines, carbs, intakes, exhaust manifolds, distributors, transmissions and rearends are included, as are those for paint, Cordova and convertible top colors, and interiors. There are also complete regular production options and dealer-installed options charts for each year. Even the appendix is stuffed with tons of facts and figures, not the least of which, are a VIN breakdown, assembly plant codes, cowl data tag breakdown, camshaft codes, transmission applications, production number breakdown and other minutia. If you are into GTOs, it's worth a look." - Thomas A. DeMauro, HighPerformancePontiac.com"However, this book will give you a wealth of information in text and photos. The Appendix is crammed full of codes, production numbers and data plate information to help you decode what Goat you are looking for." - legendarycollectorcars.com