The Cobra in the Barn: Great Stories of Automotive Archaeology (Paperback)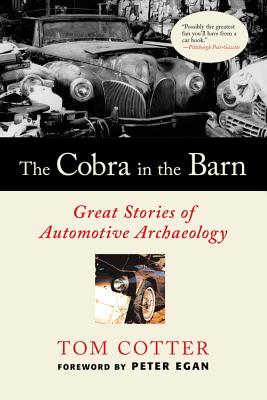 $21.99
Email or call for price.
Description
---
Now in paperback for the first time, here is the classic version of a car lover's fairy tale:  You look into an old abandoned barn or garage or warehouse--and there's the car you've searched for your whole life.  Here are the true stories of people who found their dream cars in the most unlikely places:  A man finds one of three King Cobras ever built in a junkyard in South Carolina; another discovers a rare Delahaye in a barn in the former Czech Republic; yet another answers an obscurely written ad in a local paper to discover a Triumph TR3 that had run the Daytona 24 Hour race in the early 1960s.  The list goes on and on, and the stories never get old.  Relive the excitement, glory in the astounding discoveries, and revel in the cars that keep dreams alive.
 See Tom Cotter, author of Motorbooks "In the Barn" series, interviewed by Jay Leno on JayLenosGarage.com: http://www.jaylenosgarage.com/video/jays-book-club-the-hemi-in-the-barn/1237422/
About the Author
---
Tom Cotter had long been involved in nearly every facet of the automotive and racing industries before writing his first book. From mechanic and auto salesman to heading the public relations department at Charlotte Motor Speedway, Cotter formed his own racing and automotive PR and marketing agency, Cotter Group. The agency represented some of the largest clients in NASCAR, IndyCar/CART, drag racing, and road racing. He has written biographies of the legendary Holman-Moody race team, Tommy Ivo and Dean Jeffries, but is best known for his series of barn find books, such as Cobra in the Barn, 50 Shades of Rust and Barn Find Road Trip. Cotter appears in the Barn Find Hunter video series, which is distributed by Hagerty Insurance. He teaches public relations at Belmont Abbey College, sits on the advisory board of McPherson College's Auto Restoration program, and is a member of the Road Racing Driver's Club (RRDC.) He lives in Davidson, North Carolina.