Caterpillar: Modern Earthmoving Marvels (Hardcover)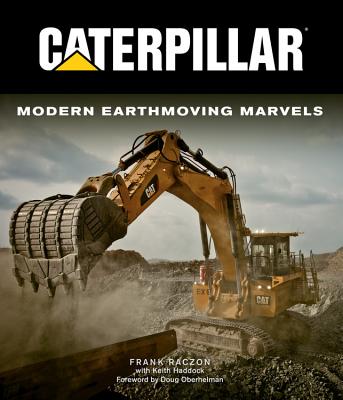 Please contact us for more details
Inquire with a bookseller before ordering. Call 860.430.6608.
Description
---
For this book, Frank Raczon dug up the dirt and constructed the only modern history of the world's heaviest machinery. So many things differentiate the Caterpillar brand from its competitors that it can be difficult to know where to begin. From its trademark Caterpillar Yellow to its tradition of making the most rock-solid products on earth, everything about the Caterpillar name is synonymous with the world's toughest machines. In fact, the company's success has led to it being used by economists as a bellwether for the state of the economy as a whole. In Caterpillar: Modern Earthmoving Marvels, author Frank Raczon details the largest and most modern earth-moving machines today, with down-to-earth explanations of how and why they work the way they do as well as interviews and quotes from Caterpillar's engineers and operators themselves. Featuring rare historical photography and insight from noted industrial historian Keith Haddock, this book offers a glimpse of how the Caterpillar's meteoric rise from an under-the-radar producer of agrarian and industrial equipment led to its modern status as an international corporate superstar. Filled with excavators, backhoe loaders, motor-graders, off-highway trucks and more, this book is sure to capture the imagination of anyone who has ever passed a construction site and wondered just how the machines work the way they do and what they're truly capable of.
About the Author
---
Keith Haddock, P.Eng., is one of the world's leading experts on earthmoving and surface mining equipment. His articles appear regularly in industrial and equipment magazines in Canada, the United States, and the United Kingdom. He often appears as a commentator on the History, Discovery, and Learning Channels. Of his six books published by MBI Publishing Company, Keith considers The Earthmover Encyclopedia his greatest writing achievement and the most comprehensive ever written on earthmoving equipment. He currently lives in Edmonton, Alberta, Canada.
Frank Raczon, senior editor of Construction Equipment magazine, has had a writing career spanning nearly 25 years across magazine publishing and public relations work with some of the industry's major equipment manufacturers. He has won numerous awards for his work, including nods from the Construction Writers Association, the Association of Equipment Manufacturers, and BtoB magazine, where he is responsible for the publication's Buying Files feature. Raczon is the author of Motorbooks' Caterpillar: Modern Earth-Moving Marvels (2014).
Praise For…
---
"... a comprehensive history of Caterpillar machines that details the Peoria, Ill.-based manufacturer's unparalleled contributions to the history of construction equipment and how its hundreds of machines have evolved. The book is exhaustively researched and well written and includes interviews and explanations of how and why they work the way they do as well as interviews and quotes from Caterpillar engineers and operators." - Rental Equipment Register Magazine
"Filled with underground mining machines, larger-than-life draglines, excavators, backhoe loaders, motor-graders, off-highway trucks and more, this book will be of interest to anyone who has ever passed a work site and wondered what those machines can do and how they work." - Mining Engineering