The Red Baron: The Graphic History of Richthofen's Flying Circus and the Air War in WWI (Zenith Graphic Histories) (Paperback)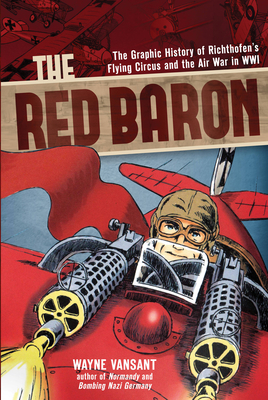 $19.99
Ships to our store in 3-8 Days
About the Author
---
Writer and artist Wayne Vansant was the primary artist for Marvel's The 'Nam for more than five years. Since then, he has written and illustrated many historically accurate graphic histories, such as The Hammer and the Anvil; The Vietnam War: A Graphic History; Normandy: A Graphic History of D-Day, The Allied Invasion of Hitler's Fortress Europe (Zenith Press, 2012); Gettysburg: The Graphic History of America's Most Famous Battle and the Turning Point of the Civil War (Zenith Press, 2013); Grant vs. Lee: The Graphic History of the Civil War's Greatest Rivals During the Last Year of the War (Zenith Press, 2013); Bombing Nazi Germany: The Graphic History of the Allied Air Campaign That Defeated Hitler in World War II (Zenith Press, 2013); and The Red Baron: The Graphic History of Richthofen's Flying Circus and the Air War in WWI (Zenith Press, 2014). He is currently working on The Battle of the Bulge: A Graphic History of Allied Victory in the Ardennes, 1944-1945 (Zenith Press, 2014) for the 70th anniversary of the battle in December 2014.
Praise For…
---
"The Red Baron by Wayne Vansant is more than a gripping graphic biography of Baron Manfred von Richthofen, the greatest ace of World War I. Vansant has not only done a remarkable job in telling the story of the Red Baron, he has presented an insightful account of the development of combat aviation, and his depictions of aerial actions are absolutely thrilling. But as important visually as they are, his real achievement is in going beyond the exciting dogfights. He rounds out the story with remarkable diligence, revealing the men behind the pilots and the importance of the aircraft that they flew. The Red Baron is an exceptional addition to the historiography of World War I and combat aviation. Bravo!" - Dwight Jon Zimmerman, award-winning and New York Times best-selling military history author
—
-
"The Red Baron takes you into the cockpit of Manfred von Richthofen's blood-red Fokker and hurls you into aerial duels in a way made possible only in a graphic history. This legendary story of men who flew with the wind in their wires will stay with you long after you savor Wayne Vansant's words and illustrations." - Robert F. Dorr, USAF (ret.), historian and author of Fighting Hitler's Jets
—
-
"Wayne Vansant profiles and brings back to life one of combat aviation's greatest legends, Manfred von Richthofen��better known as the Red Baron��in a graphic history that will surely entertain both young and old alike. This illustrated biography also highlights the exploits of many other combat pilots, German and Allied, and is as educational and entertaining for students as for adults. . . .
The fighter pilots of the First World War set the benchmark for later generations of pilots. Twenty years later, in an even greater world war, their legacy of conduct, chivalry, honor, innovation, and success would be remembered, even revered, by another generation of young men who would once again fly, fight, and die in hostile European skies. Other heroes would emerge, but the Red Baron will always stand alone." - Colin D. Heaton, historian and author of The German Aces Speak and The Me 262 Stormbird
—
-