Stanley Jr. Gardening is Awesome!: Projects, Advice, and Insight for Young Gardeners (STANLEY® Jr.) (Paperback)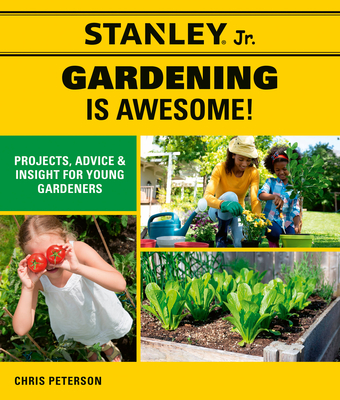 Description
---
STANLEY® Jr. Gardening is Awesome! gets kids outside with activities and projects.
Kids can jump right in with an introduction to gardening. A complete basics section on vegetables, fruits, flowers, trees, and shrubs kicks things off. You'll also learn how to make super soiland keep plants happy with the right amount of sunlight and water. A complete garden gear guide gets you ready for growing. The rest of the book is all about things to do.
With plenty for adults to learn about, too, chapters and projects include:
Gardening How-Tos shows you how to test soil drainage and start plants in an egg carton.
Great Bed Gardens sets you up for success when planting a row garden, a colorful summer flower garden, and more. 
Container Gardening shows you how to grow strawberries in a 5-Gallon bucket and create a beautiful bulb box.
Raised Bed Plots feature a square foot garden, uplifted herb garden, and even a vertical garden!
With clearly written steps and helpful photographs, the aim is for kids to lead. STEAM/STEMlearning opportunities are part of the fun as well! Fun facts and explorations accompany the projects throughout the book, highlighting everything from composting chemistry to the math behind a square foot garden. Kids are encouraged to develop a "maker" mentality, fostering creative problem-solving and open-ended exploration. Build and explore in the garden!
The STANLEY® Jr. series is full of books for young makers that empower creativity. They feature wholesome inspiration, learning, and fun for everyone. Filled with easy-to-follow instructions and step-by-step photos, they are playbooks to build, grow, and create something new.
About the Author
---
Chris Peterson is a veteran home improvement and design author. Among the many books he has written are 5-Gallon Bucket Book, Building with Secondhand Stuff, Manskills, four books in the Ideas You Can Use series, and many books in Cool Springs Press's BLACK+DECKER Complete Guide series. He has also co-authored numerous home design books with noted media celebrities. He lives in Ashland, Oregon.