Return (Hardcover)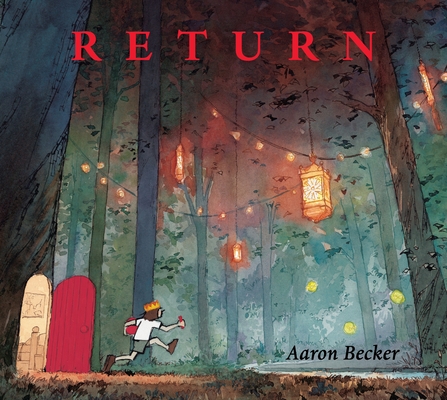 $17.99

Ships to our store in 3-8 Days
Description
---
Welcome the much-anticipated finale of Caldecott Honoree Aaron Becker's wordless trilogy—a spectacular, emotionally satisfying story that brings its adventurer home.

Failing to get the attention of her busy father, a lonely girl turns back to a fantastic world for friendship and adventure. It's her third journey into the enticing realm of kings and emperors, castles and canals, exotic creatures and enchanting landscapes. This time, it will take something truly powerful to persuade her to return home, as a gripping backstory is revealed that will hold readers in its thrall. Caldecott Honor winner Aaron Becker delivers a suspenseful and moving climax to his wordless trilogy, an epic that began with the award-winning Journey and continued with the celebrated follow-up Quest.
About the Author
---
Aaron Becker dreamed of traveling to castles when he was a boy. At age ten, he was lucky enough to visit the walled island of Mont Saint-Michel in Normandy, France. Many years later, that visit inspired him to create the palatial castle featured throughout the Journey trilogy. Aaron recently returned to Europe with his family, where he completed the watercolor paintings you see in this book.
Praise For…
---
"Return" offers straight shots of pleasure.
—The New York Times Book Review

This breathless finale to Becker's Journey trilogy (Journey, 2013; Quest, 2014) takes readers back to the intricate interior of an alternate world where crayons wield power...The father and child's mutual adventure unspools silently but with urgency. Readers remember the dad's distraction, which started both this book and the trilogy itself. When cave paintings depict the dad as the hero, casting out the villain, hearts swell and eyes well.A fantastic final leg to a reading journey that altered, expanded, and enriched the landscape of children's literature—and surely many young people's lives.
—Kirkus Reviews (starred review)

In a bravura finish to the trio of wordless tales that began with 2013's Journey, Caldecott Honoree Becker brings still more splendor and feeling to his architectural fantasy world...Fantastic contraptions, elaborate landscapes, and breathless escapes would each on their own distinguish this installment; together, they dazzle. That the father is redeemed by entering his daughter's kingdom and mastering its rules gives the story a sense of moral justice. Becker's creation is a gift to his readers—one they'll want to save for their own children.
—Publishers Weekly (starred review)

In this satisfying conclusion to the magnificent picture book trilogy...Becker's stunning watercolor and pen-and-ink illustrations depict a breathtaking world that captivates without a written narrative—and one that readers will want to come back to again and again. Though this title relies somewhat on the audience's knowledge of the previous books, it is an absolute must for any collection and will draw new fans just as it will delight those who enjoyed the previous two installments.
—School Library Journal (starred review)

The concluding volume of this wordless trilogy (Journey, BCCB 10/13 and Quest, BCCB 9/14) offers a final look at the fantastical kingdom entered by two kids who wield magic with their colored markers...fans of the first two (and fathers wishing they could join in the adventure) will appreciate the warm conclusion.
—Bulletin of the Center for Children's Books

This third, wordless installment (Journey, rev. 9/13; Quest, rev. 9/14) brings the story full circle, beginning and ending in the same city brownstone shown in the first book. While Return can be enjoyed on its own, fans will find rewarding similarities to, and subtle differences from, the other books...Even if her character has grown up, readers can return to this world again and again.
—Horn Book

The watercolors remain breathtaking, and there are moments of high invention...It's a must-read for fans.
—Booklist

From the castle and its surroundings to the cave where a parallel adventure is depicted in petroglyphs, Becker's detailed watercolors invest his tale with visual and narrative richness — and invite readers to return again.
—Washington Post

The dazzling, wordless picture-book trilogy that began with "Journey" (2013) and "Quest" (2014) comes to a rapturous conclusion with "Return" (Candlewick, 40 pages, $15.99), as Aaron Becker brings children ages 4-9 back to the hushed, lantern-hung woods and fantastical turrets and waterways of a marvelous realm. Rich indigos, purples and golds predominate in Mr. Becker's captivating pictures of a child and her surprise companion whose love and ingenuity win the day in a setting of magical beauty.
—The Wall Street Journal