Venice: Four Seasons of Home Cooking (Hardcover)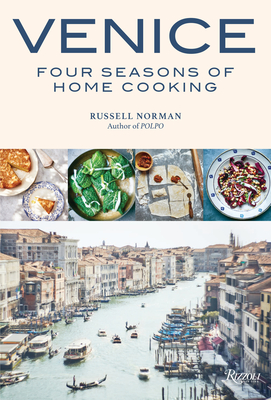 $17.98
Ships to our store in 3-8 Days
Description
---
A dazzling tribute to Italy's greatest "hidden" regional cuisine by the author of the bestselling and groundbreaking cookbook Polpo.

Returning to the city of his gastronomic inspiration, Norman Russell immerses himself in the authentic recipes and culinary traditions of Venice and the Veneto in one hundred recipes showcasing the simple but exquisite flavors of La Serenissima. He documents one magical year learning and fine-tuning the specialties and everyday comfort foods of la cucina veneziana in a rustic kitchen in a neighborhood far from the tourist crowds -- where washing hangs across the narrow streets and some houses still rely on a communal well for water.
Russell lovingly reproduces true Venetian recipes with authentic ingredients very different from the globalized tourist fare in the city's restaurants. The book is structured by season highlighting the ever-changing produce available in Venice's buzzing market stalls throughout the year. Included are Venetian favorites such as asparagus with Parmesan and anchovy butter, butternut risotto, arancini, rabbit cacciatore, warm duck salad with walnuts and beets, scallops with lemon and peppermint, and warm octopus salad.
Russell also affords a rare and intimate glimpse into Venice: its hidden architectural gems, secret places, embedded history, the color and energy of daily life and the characters that make this city so enchanting.
About the Author
---
Russell Norman is a leading London restaurateur. Over the last 20 years he has worked in many of London's landmark restaurants as a waiter, bartender, maître d', general manager and operations director. His book Polpo: A Venetian Cookbook (of Sorts) was voted Waterstones Book of the Year 2012. In 2014 he starred in "The Restaurant Man", a six-part prime-time documentary for BBC2, and his second book Spuntino Comfort Food, New York Style was published in September 2015. He is a contributing editor for Esquire magazine and writes a monthly column as 'The Accidental Cook'.
Praise For…
---
"Sometimes, though rarely, it takes a non-Italian to break from entrenched stereotypes about Italian food, and Russell Norman, founder of the POLPO restaurant group in London, has done so with a seasonal cookbook of recipes actually made at home, not based on ristorante dishes (no carpaccio here). " —Forbes