The Columbia Restaurant Spanish Cookbook (Hardcover)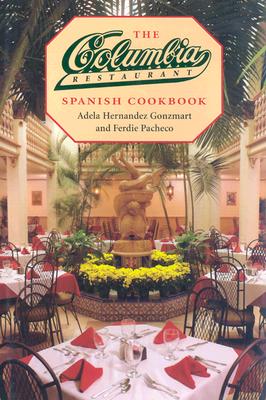 Please contact us for more details
Inquire with a bookseller before ordering. Call 860.430.6608.
Description
---
*"Five Forks"--Spanish government ranking
*"Recommended"--
AAA Travel Guide
and
Mobil Travel Guide
*Golden Spoon Award--
Florida Trend
*"A Spanish happening not to be found elsewhere."--
Holiday Magazine
*Epicurean Rendezvous Award for "The best restaurant in Tampa, Florida"--
Fortune Magazine
*Fine Dining Hall of Fame Award--
Nation's Restaurant News
Out of secrets and dreams and romance, Adela Hernandez Gonzmart and Ferdie Pacheco memorialize their passion for the Columbia in this narrated cookbook inspired by the nation's largest Spanish restaurant and Florida's oldest restaurant.
Adela's affair with food is a family legacy that began more than 90 years ago, when her beloved grandfather Casimiro emigrated from Cuba to Tampa, then a little town on Florida's west coast. There, amid scrub palmettos and rattlesnakes, an enclave of Cubans, Spaniards, and Italians worked in the growing cigar industry in a neighborhood known as Ybor City. Casimiro Hernandez found work, saved his money, and in 1905 purchased a bar, where he started selling soup, sandwiches, and coffee. Out of gratitude to his new country, he named his small caf the Columbia, after the personification of America in the popular song "Columbia, Gem of the Ocean." Prophetically, he added this motto to his sign: "The Gem of All Spanish Restaurants." This book is both a history of the elegant family restaurant, which now boasts six locations in Florida, and a cookbook of 178 recipes that make them famous. It is also the biography of Adela, the heart of the Columbia, with commentary by Ferdie Pacheco, television's "fight doctor," Ybor City's famous raconteur, and Adela's neighbor as they grew up together in Ybor City. Casimiro became known for dishes that the Columbia still serves--Spanish bean soup, his lusty creation that combines sausage, garbanzo beans, and potatoes in a beef stock;
arroz con pollo
, a classic chicken and rice dish; an authentic Cuban sandwich; and the 1905 salad, dressed with the family's special blend of fresh garlic, oregano, wine vinegar, lemon juice, and Spanish olive oil. Pijuan, Casimiro's fabled chef from the kitchen of King Alfonso XIII of Spain, contributed numerous works of art, such as pompano
papillot
and steak
capuchina
. Adela and Ferdie now reveal the best of these recipes and offer many others, giving lovers of good food the opportunity to bring home the aroma, the seasonings, and the glamour of the Columbia, the gem of all Spanish restaurants.

Adela Hernandez Gonzmart was born two blocks from the Columbia Restaurant. After graduating from the Juilliard School of Music, she toured the United States and Cuba as a concert pianist. After her marriage to violinist Cesar Gonzmart, she performed with such entertainers as Liberace, Ernesto Lecuona, and Amparo Hurb. She was instrumental in forming the Tampa Symphony Orchestra and has received countless honors from organizations in the Tampa community: Outstanding Citizen of the Year awards from the Tampa Museum Society and the Optimist Club, Hispanic Woman of the Year from the Hispanic Heritage League, Paulo Longo Award from the Italian Club, and the Centro Asturiano Award for contributions to the Latin community, as well as awards from the community Red Cross, Salvation Army, Girl Scouts, and Arts Council and other awards for civic service.

Ferdie Pacheco, who as a teenager worked in the Columbia Restaurant as a waiter, is the author of Ybor City Chronicles (UPF, 1994), Muhammad Ali: A View from the Corner, Fight Doctor, and Renegade Lightning. He served as Muhammad Ali's personal physician from 1963 to 1977. He is also a painter, exhibiting one-man shows in London, Paris, New York, and Miami (where he now lives), and a boxing color commentator on television. He is married to Luisita Sevilla, who danced flamenco with Los Chavales de Espa a until Ferdie booked her into his house "for a lifetime run."