EPPP Fundamentals: Review for the Examination for Professional Practice in Psychology (Paperback)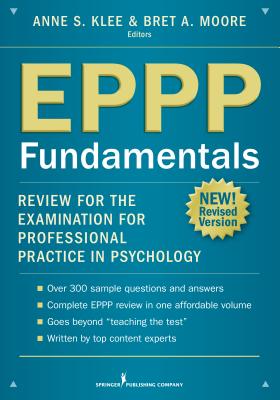 $65.00
Email or call for price
Description
---
I am very pleased to see EPPP Fundamentals, a concise, compact presentation of essential information, that does not overwhelm the reader who is already feeling some anxiety about the upcoming exam. This is an effi cient alternative to expensive EPPP preparation courses, and is now at the top of my list of recommendations for our graduates.
Richard Tedeschi, PhD, Professor of Psychology, University of North Carolina-Charlotte
This authoritative guide to the EPPP provides an affordable, concise, and comprehensive review of core exam content and includes over 300 sample questions. The guide goes beyond merely teaching the test through rote memorization. Instead, it covers the eight content domains of the EPPP and their knowledge areas in a step-by-step, narrative, and review format. The book also includes contributions from the directors of top psychology training and internship programs in the United States. The combined approach of providing a comprehensive review from true content experts helps users gain the depth and breadth of knowledge required for passing the exam, and mirrors how doctoral-level courses are commonly taught.
The review gives test-takers an orientation to the EPPP by covering the development and format of the exam along with successful test-taking strategies. Chapters covering EPPP content domains each include a comprehensive review of the material, key points to remember, sample questions and answers, and recommended readings for more in-depth study. Reflecting the test's presentation, chapter authors cover each subject domain according to the ASPPB's EPPP Information for Candidates Guide. Chapters are written by clinical supervisors and faculty directly involved in training interns, residents, and fellows in psychology. In addition to sample exam questions with answers in each chapter, a bonus section of 100 questions gives readers practice in taking this high-stakes test.
Key Features:
Presents an in-depth, comprehensive content review that goes beyond teaching the test
Provides an affordable alternative to expensive EPPP preparation courses
Written and edited by directors of the foremost training, internship, and postdoctoral fellowship programs
Includes key points to remember, sample questions and answers, and recommended readings in each chapter
Presents over 300 sample questions and answers