How To Eataly: A Guide to Buying, Cooking, and Eating Italian Food (Hardcover)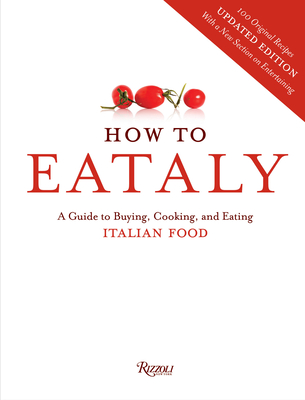 Please contact us for more details
Inquire with a bookseller before ordering. Call 860.430.6608.
Description
---
The secrets to Italian cooking, straight from the source—the wildly popular food emporium that is founded in Italy. "The more you know, the more you will enjoy" is the philosophy behind Eataly, and it is the idea behind this essential compendium of Italian cooking. Here, Eataly's team of experts, including Mario Batali and Lidia Bastianich, covers everything you need to know about Italian food, starting from the ground up. Learn how to assemble an antipasto platter, how to eat breakfast like an Italian, and how to use pantry flavor boosters like capers and anchovies. The first secret to the best cooking, of course, is the best-quality ingredients. How to Eataly tells you what to look for in the market, then offers one hundred recipes for contemporary classics such as Acorn Squash with Lentils, Vesuvio Pasta with Sausage, and Panna Cotta with Streusel. In addition, the book is packed with simple ideas for what to do with staples, from olive oil to mozzarella. Whether you are cooking from scratch or using some store-bought components, How to Eataly empowers you to create delicious meals by fostering a total understanding of Italian cooking.
About the Author
---
Eataly is a worldwide retailer of the highest quality Italian foods, with more than twenty-six stores, including ten in Italy, thirteen in Japan, and two in the United States. Mario Batali is the author of nine cookbooks and the chef of three restaurants. Lidia Bastianich is the author of eight cookbooks and the chef of six restaurants. Joseph Bastianich is the author of Vino Italiano and Restaurant Man. Oscar Farinetti is the creator and founder of Eataly. Adam and Alex Saper are the brothers who helped bring Eataly to America.
Praise For…
---
"[One of] The 18 Cookbooks You Need This Fall…this season's top reads are sure to whip up an appetite. How to Eataly, Pick up a copy to learn everything you want to know about olive oil, pasta, cheese, cheese and more cheese." –People Magazine

"The secret of Eataly's success? The New York Times described it as "part European open market, part New Age food court, and part New Age learning center." Now there's an official cookbook, How to Eataly: A Guide to Buying, Cooking, and Eating Italian Food, produced by Farinetti and the team behind the New York emporium—Mario Batali, Lidia Bastianich, and Joe Bastianich. The book promises the secrets of great Italian cooking straight from the pros behind one of the food world's most recent megasuccesses." –Gotham

"…this book offers, the impetus to use the very best ingredients and the tricks that grandmothers know to get the best flavor out of them. In fact, the book reflects founder Oscar Farinetti's vision for the store…the focus is on regional ingredients, artisanal producers, and traditional recipes. Tips and techniques are combined with a friendly bit of encyclopedia: how the taste and judge olive oil, signs of quality in fresh and dried pasta…Together with photos and recipes, the book indeed provides insight into the Italian way with food from production to preparation to enjoyment. And the Italian love of embellishment. This is the book when you're ready to venture out of your "home town" and learn the Italian way with caffe, digestivo, pane, verdure, salumi, and all such deliciousness." –Appetite for Books

"A compendium of Italian cuisine and the culinary arts of Italy, How to Eataly is page-after-page fascinating and informative. All emphasis is on quality ingredients and doing things the right way. It's a culinary procedural for anyone wanting to dig deeply into the secrets of basic Italian cooking. Warning: You will salivate." –Ambassador

"[One of] the Most Anticipated books for Fall 2014" –Eater.com

"From the founders of Eataly food market comes a new cookbook filled with over 100 recipes on how to cook fresh, healthy, contemporary Italian food. In addition to the recipes, the book covers how to shop the best, freshest Italian ingredients. It's the next-best thing to going there." –Harper's Bazaar

"A companion book of sorts to Eataly, the Italian food emporium with more than 26 international locations, this gorgeous volume feels like an encyclopedia, with instructions on everything from how to chop garlic to eating breakfast like an Italian. With forewords by chefs Mario Batali and Lidia Bastianich, the book also features 100 recipes for contemporary Italian dishes." –Fodors.com

"I have Eataly envy. How to Eataly is not just a cookbook, but a kind of guide to how Italians shop, cook and eat with wonderful photos and all kinds of mini tutorials. The recipes go beyond the well-known and include the kinds of things people really do eat in Italy…The guides in the book include everything from a discussion about Parmigiano Reggiano and Grana Padano, to how Italians use leftover bread, to how to make mozzarella and how to taste olive oil and how Italians eat pizza. But it's a really fun and fascinating book for any Italian food lover." –Cooking With Amy Blog