Terminal Town: An Illustrated Guide to Chicago's Airports, Bus Depots, Train Stations, and Steamship Landings, 1939 - Present (Paperback)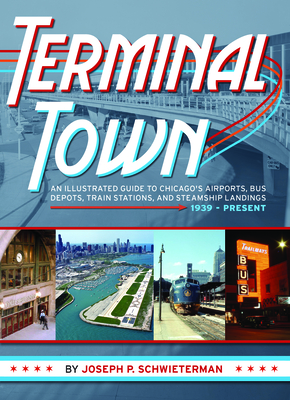 Please contact us for more details
Inquire with a bookseller before ordering. Call 860.430.6608.
Description
---
Whether by road, rail, water, or sky . . . people come to Chicago. In droves. In waves of migration and immigration. For work and for play. But how do they get to Chicago? Terminal Town answers this question with a fast-moving history of Chicago's many passenger transportation terminals. These have, for generations, served as defining features of the city's cosmopolitan character. Showcasing great icons of transportation, including Chicago's Union Station, Dearborn Station, and Midway and O'Hare airports, as well as lesser-known and long-gone terminals throughout the metropolitan region, this book illustrates why the Windy City so richly deserves its reputation as America's premier travel hub.
Featuring 48 stations and terminals through short narrative, 215 color photographs, and 20 custom maps, Terminal Town provides a fascinating portrait of the city's famously complex and constantly changing transportation system.
About the Author
---
Joseph P. Schwieterman is a professor in the School of Public Service and director of the Chaddick Institute for Metropolitan Development at DePaul University. A nationally known authority on air, bus, and train travel, Schwieterman has spent more than three decades studying the Windy City's historically significant and ever-changing transportation system.
Praise For…
---
"A photo-rich guide to Chicago's airports, bus depots, train stations and steamship landings, from 1939 to the present. Schwieterman takes readers on a journey to well-known former transportation locations, from the art deco-style National Trailways bus terminal that was adorned with blinking neon lights on East Randolph Street in the Loop, to the six major downtown railroad stations that existed through 1969." —Chicago Tribune

"Richly illustrated and featuring a wealth of maps, some sourced from Trains Magazine, this is a valuable reference tool for people interested in all forms of transportation in the Chicago area." —Trains Magazine

"Terminal Town spans the city's ever-changing air, train, and bus terminals, putting the spotlight on icons of the past and proposed stations of the future." —Chicago Magazine