Essentials of Wisc-V Assessment (Essentials of Psychological Assessment) (Paperback)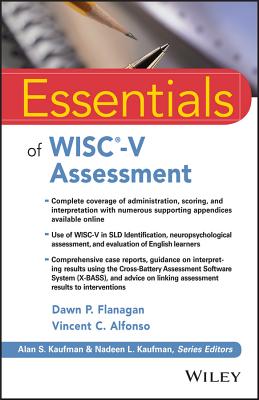 $57.25

Ships to our store in 3-8 Days
Description
---
The comprehensive reference for informative WISC-V assessment
Essentials of WISC-V Assessmentprovides step-by-step guidance for administering, scoring, and interpreting the Wechsler Intelligence Scale for Children (WISC-V). Packed with practical tips for more accurate assessment, this informative guide includes numerous case studies that illustrate a range of real-world issues. Special attention is devoted to the assessment of individuals who have significant learning difficulties, such as learning disabilities, and who speak English as a second language. The WISC-V is a valuable assessment tool, but it must be administered and scored appropriately to gain meaning from score interpretation. This book gives you an in-depth understanding of the WISC-V assessment and interpretive process to assist practitioners in:
Conducting efficient and informative WISC-V assessments
Utilizing WISC-V in cross-battery and neuropsychological assessment
Applying WISC-V in the identification of specific learning disabilities
Utilizing WISC-V in nondiscriminatory assessment of English language learners
Writing theory-based WISC-V reports
Linking WISC-V findings to interventions based on individual performance
As the world's most widely-used intelligence test for children, the WISC-V is useful in diagnosing intellectual disabilities and specific learning disabilities, as well as in identifying giftedness. In this volume, sample reports demonstrate how WISC-V assessment results may be linked to interventions, accommodations, modifications, and compensatory strategies that facilitate positive outcomes for children. Essentials of WISC-V Assessment is the all-in-one practical resource for both students and practitioners. The book can be used on its own or with companion software (purchased separately) that provides a user-friendly tool for producing psychometrically and theoretically defensible interpretations of WISC-V performance, and may be used to develop interventions based on each child's strengths and weaknesses.
About the Author
---
Dawn P. Flanagan, PhD, is Professor of Psychology at St. John's University and Clinical Assistant Professor of Psychology at Yale Child Study Center, Yale University School of Medicine. She serves as an expert witness, learning disabilities consultant, and psychoeducational test/measurement consultant and trainer for national and international organizations. Dr. Flanagan is an author of numerous publications and best known for her development of the Cross-Battery Assessment approach and the development of an operational definition of specific learning disability. Vincent C. Alfonso, PhD, is the Dean of School of Education at Gonzaga University. He is the past president of Division 16 (School Psychology) of the American Psychological Association, fellow of Divisions 16 and 5 of the APA, and a certified school psychologist and licensed psychologist. He has been providing psychoeducational services to individuals across the lifespan for more than 20 years. He is the co-editor with Dawn Flanagan of Essentials of Specific Learning Disability Identification, and co-author of Essentials of Cross-Battery Assessment, Third Edition.