A Man of Honor (Harte Family Saga) (Hardcover)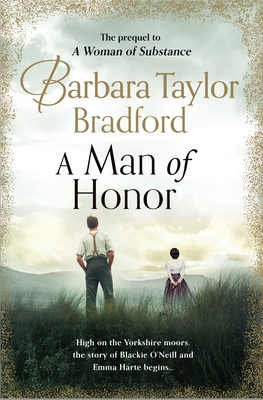 $29.99

Available for Pre-Order Now
Other Books in Series
Description
---
The prequel to Barbara Taylor Bradford's New York Times bestselling and dazzling saga A Woman of Substance.

Opening five years before the start of A Woman of Substance, A Man of Honor begins with 13-year-old Blackie O'Neill facing an uncertain future in rural County Kerry. Orphaned and alone, he has just buried his sister, Bronagh, and must leave his home to set sail for England, in search of a better life with his mother's brother in Leeds. There, he learns his trade as a navvy, amid the grand buildings and engineering triumphs of one of England's most prosperous cities, and starts to dream of greater things... And then, high on the Yorkshire moors, in the mists of a winter morning he meets a kitchen maid called Emma Harte.

In A Man of Honor, the true Blackie O'Neill is revealed. For the first time, readers discover his story: his tumultuous life, the obstacles facing him, the desire he has to throw off the impotence of poverty and move up in the world. Like his friend Emma, he is ambitious, driven, disciplined, and determined to make it to the top. And like Emma Harte, he is an unforgettable character for the millions who loved the book.
About the Author
---
Barbara Taylor Bradford was born and raised in England. She left school at 15 for the typing pool at the Yorkshire Evening Post. At 16 she was a reporter, and at 18 she became the paper's first woman's page editor and, at 20, moved to London and became a fashion editor and columnist on Fleet Street.
Barbara published her first novel, A Woman of Substance, in 1979. It went from bestseller to super seller within its first year and stayed on the New York Times' list for 43 weeks.
Barbara has had 38 books published, all worldwide bestsellers. Her 39th novel, A Man of Honour, will be the prequel to A Woman of Substance. Ninety million copies of her books have been sold to date. They are published in over 40 languages and in more than 90 countries.
In October 2007, Barbara was appointed an OBE by The Queen for her services to literature. Barbara is the recipient of 25 other awards for her writing achievements and philanthropy. She is an ambassador for the National Literacy Trust, an independent UK charity that transforms lives through literacy, and is passionate about empowering girls to write and let their voices be heard through their stories and continues to support Literacy Partners US.
Described as the "grand dame of blockbusters", "Queen of the genre", Barbara's amazing success has made her one of the most successful writers in the world today.