Your First Atlantic Crossing: A Planning Guide for Passagemakers (Paperback)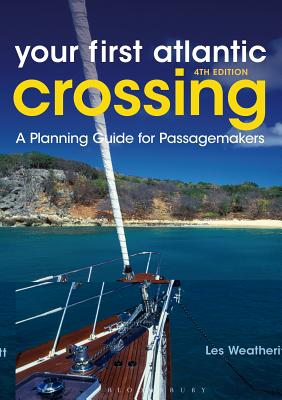 Email or call for price (info@riverbendbookshop.com)
Description
---
Answering all of the important questions, this book shows not just how to sail an ocean for the first time, but also how to enjoy it. There are insights into the social as well as nautical reality of preparing the boat, the comfort of having highly detailed plans, the inside story of life with a crew, coping with unexpected gales and calms, the live-or-die decision to keep watches or not and the ports of call from Spain to Tobago via the Atlantic islands and West Africa.

This fourth edition has been substantially expanded, with extra information on:

-Types of boat, anchoring, sleep and watch keeping
-Weather and climate, and the impact of Atlantic weather systems on timings and conditions of crossings
-Latest developments in technology (navigation, self steering, equipment)
-Alternatives to the standard routes across
-Sailing back from the US to the UK-this edition will get you home!
About the Author
---
Les Weatheritt discovered sailing as a deck hand on a 150-foot Caribbean schooner at the age of 21. Back in Britain he taught himself sailing while working as a research economist. He cruised small yachts around Britain and Europe from Sweden to Spain before crossing the Atlantic in 1994 with his ferro cement 32-foot Petronella. After a decade in the Caribbean he returned slowly to Europe, spending a year in the Azores. When he reached the Spanish rias he turned south to explore Portugal and the Algarve, and is still sailing there. He is also the author of Caribbean Passagemaking.
Praise For…
---
"I shall enjoy dipping into this dream maker, time and again . . . an excellent guide to the planning of your Atlantic crossing. Read all the other books but keep this one beside you." —Cruising Association

"Offers down to earth advice based on hard-won experience." —Yachting Monthly

"Covers everything the novice sailor needs to know for a voyage across the Atlantic." —Practical Boat Owner