Apocalypse Taco (Hardcover)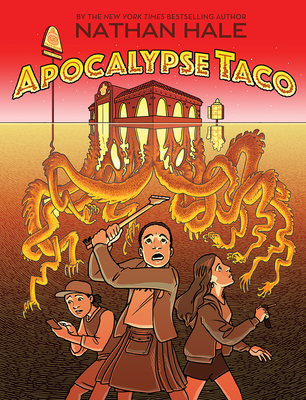 $14.99
Usually Ships in 1-5 Days
Description
---
Sid, Axl, and Ivan volunteer to make a late-night fast-food run for the high school theater crew, and when they return, they find themselves. Not in a deep, metaphoric sense: They find copies of themselves onstage. As they look closer, they begin to realize that the world around them isn't quite right. Turns out, when they went to the taco place across town, they actually crossed into an alien dimension that's eerily similar to their world. The aliens have made sinister copies of cars, buildings, and people—and they all want to get Sid, Axl, and Ivan. Now the group will have to use their wits, their truck, and even their windshield scraper to escape! But they may be too late. They may now be copies themselves . . .

About the Author
---
Nathan Hale is the #1 New York Times bestselling author and illustrator of the Nathan Hale's Hazardous Tales series. He also wrote and illustrated the graphic novels One Trick Pony and Apocalypse Taco. Nathan lives in Utah. Learn more at nathanhaleauthor.com.
Praise For…
---
"Hale positively revels in the weirdness of his premise. The two-color orange palette he uses adds to the surrealistic feeling of the illustrations . . . A well-balanced mix of sci-fi, horror, and humor."
— Kirkus Reviews
"Perfect for fans of weird fiction, with a visual style that will appeal to fans of horror comics."
— Booklist
"Hale has done it again—another graphic novel that offers a terrific blend of the eerie and the humorous that will captivate new readers and delight dedicated fans."
— School Library Journal
"An entertaining blend of humor and horror drives this whirlwind tale of science gone awry . . . Weird, freaky fun."
— Publishers Weekly