2017 North American Coins & Prices: A Guide to U.S., Canadian and Mexican Coins (Paperback)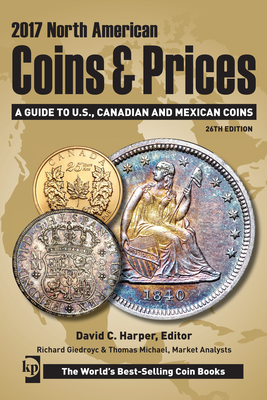 $21.99
Email or call for price
Other Books in Series
This is book number 2017 in the North American Coins & Prices series.
Description
---
Three great countries, one great resource Featuring more than 50,000 individual coin listings, more than 6,100 photographs and updated coin prices for the United States, Canada, and Mexico, 2017 North American Coins & Prices is the perfect single source reference for people passionate about the coins of our continent. Organized by country, government, denomination and date of issue, this reference is a clear, detailed and easy-to-use resource for a vast array of coins. The U.S. section offers listings for early Colonial coins and tokens of the 176th and 18th centuries through Federal issues from 1791 to date. The listings for Mexico begin in 1701 and flow chronologically through many government changes while Canada's listings begin with its earliest unified coinage in 1858 and continue through their many 21st century commemorative issues. Inside you'll find: - Pricing, descriptions and photos for coin issues of the United States, Canada and Mexico
- Improved chronological structure for Colonial America and Mexico War of Independence
- Graphs providing historical market performance of significant U.S. coins
- Expanding pricing grades for Canada and Mexico
For more than two and a half decades, North American Coins & Prices has provided unique, complete and authoritative information. Experience for yourself why this exceptional reference is the best guide of its kind on the market.