White Man's Justice, Black Man's Grief (Paperback)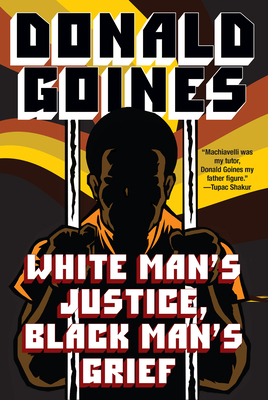 $15.95

Ships to our store in 3-8 Days
Description
---
The godfather of urban lit, Donald Goines knows life on the streets is a one-way ticket to life behind bars, where suffering is the one and only daily bread. For the first time in over a decade, his classic White Man's Justice, Black Man's Grief is now repackaged and reissued in trade with a whole new look to attract new readers, as well as long-time fans of the legend himself.

Barely out of his twenties, Chester Hines knows the score. He's just another bug crawling through the streets of Detroit, waiting to be squashed under the heel of a system meant to keep a brother down. But with his old lady on his back, his only options are on the wrong side of the law. He didn't need a fortune-teller to tell him that sooner or later he'd end up in a system more brutal than the one that forced him there.

Prison life is raw. But it's the only life Chester's got. Against all odds, he and his crew will forge a brotherhood in hell. Together they'll scratch and claw their way day by day, suffering unimaginable abuse, betrayal, and pure, uncut hopelessness--or die trying.
About the Author
---
Donald Goines was born in Detroit, Michigan. He joined the U.S. Air Force instead of going into his family's dry cleaning business. Following his service, he entered into a life of drug addiction and crime. He received seven prison sentences, serving a total of over six years. While he was in prison, Goines wrote his first two novels, Dopefiend: The Story of a Black Junkie and Whoreson: The Story of a Ghetto Pimp. Goines was shot to death in 1974.
Praise For…
---
Praise for Donald Goines:
 
"Machiavelli was my tutor, Donald Goines my father figure." —Tupac Shakur

"The voice of the ghetto itself." —The Village Voice
 
"Donald Goines, a brilliant writer of street literature captures the pain of addiction perfectly."
—Black Enterprise, The 18 Best Books of All Time on Dopefiend
 
"Goines' influence on hip-hop, pulp-fiction, movies, and scores of authors deserves as much praise as a James Baldwin or Richard Wright, who also wrote about Black life in the ghetto." 
—Darryl Robertson, Hip hop journalist
 
"A true master at depicting street life in it rawest, most authentic form, Mr. Goines mastered the art of storytelling from the darkest corner of America: the ghetto. His brilliance still shines through and touches the soul of modern black culture."
—JaQuavis Coleman, New York Times bestselling author

"Donald Goines is the most iconic voice in urban fiction. His masterful pen is timeless."
—Ashley Antoinette, New York Times bestselling author

"I learned to read on Donald Goines. His books are classics." —Carl Weber, New York Times bestselling author and founder of Urban Books

"A timeless writer, Donald Goines laid the foundation for all who came after. Fifty years later, his novels continue to inspire urban fiction from one generation to the next."
—Wahida Clark, New York Times bestselling author
 
"He lived by the code of the streets and his books vividly recreated the street jungle and its predators." —New Jersey Voice

"Donald Goines is one of Hip Hop's Greatest Inspirations." —The Source Magazine

"The godfather of black pulp fiction." —Salon.com

"Goines put you right there in the action." —AllHipHop.com

"Donald Goines was for the streets [in the 70s] what the rappers are today...He was in the streets, of the streets and spoke for the streets." —Chaz Williams, CEO of Black Hand Entertainment

"Donald Goines has become, decades after his death, one of the most influential African-American authors in the African-American literary canon." —Thumpers Corner