Only Plane in the Sky: An Oral History of 9/11 (Paperback)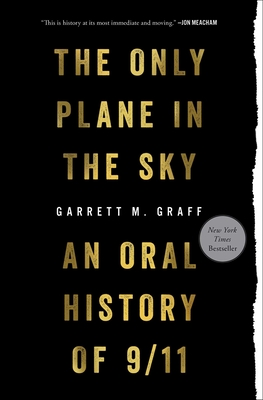 Description
---
A 2019 Goodreads Readers' Choice Finalist for Best History
A Washington Post Notable Nonfiction Book of 2019
A New York Post Best Book of 2019

Now with a new afterword, Garrett M. Graff's instant New York Times bestseller The Only Plane in the Sky, is the comprehensive oral history of September 11, 2001 that has been called "history as its most immediate and moving" (Jon Meacham) and "remarkable…a priceless civic gift" (The Wall Street Journal).

Hailed as "remarkable…incredibly evocative and compelling" (The Washington Post) and "oral history at its finest" (Pittsburgh Post-Gazette), Garrett M. Graff's The Only Plane in the Sky is the most vivid and human portrait of the September 11 attacks yet, comprised of never-before-published transcripts, recently declassified documents, and original interviews and stories from nearly five hundred government officials, first responders, witnesses, survivors, friends, and family members. Here is a vivid, profound, and searing portrait of humanity on a day that changed the course of history, and all of our lives.
About the Author
---
Garrett M. Graff, a distinguished journalist and bestselling historian, has spent more than a dozen years covering politics, technology, and national security—helping to explain where we've been and where we're headed. Today, he serves as the director of cyber initiatives for The Aspen Institute and is a contributor to WIRED, CNN, and POLITICO. He's written for publications from Esquire to Rolling Stone to The New York Times, and edited two of Washington's most prestigious magazines, Washingtonian and POLITICO Magazine. Graff is the author of multiple books, including The Threat Matrix: Inside Robert Mueller's FBI, the national bestseller Raven Rock: The Story of the US Government's Secret Plan to Save Itself—While the Rest of Us Die, and the New York Times bestseller The Only Plane in the Sky.
Praise For…
---
"A riveting step-by-step account of the day . . . The technique of letting the witnesses tell the story does a remarkable job of bringing to life the horrific day in a way that a writer's narrative would have a hard time matching. . . . It makes for a gripping read—and a reminder of the country at its best while under attack." —Will Lester, Associated Press

"Graff has woven a powerful, graphic narrative of how September 11 played out everywhere from the International Space Station to the inside of the collapsing World Trade Center towers. . . . I repeatedly cried. I could feel my pulse elevate. I often had to put it down after a dozen pages. But I think that's the point of the book. September 11 was terrible and confusing, and the more time passes, sometimes the harder that is to remember. No matter how much we try to describe those feelings to children who didn't live through them, something will be lost in the translation and telling. This book captures the emotions and unspooling horror of the day. It will be a good text to hand to a curious teenager when he one day asks: What was September 11 really like?" —Scott Detrow, NPR

"Over 64 fine-sliced chapters, Mr. Graff . . . gives us 'the stories of those who lived through and experienced 9/11—where they were, what they remember, and how their lives changed.' The result is remarkable, and Mr. Graff's curation of these accounts—drawn from hundreds of his own interviews and from the reporting of other journalists and historians—is a priceless civic gift. . . . The book is refreshingly free from editorializing, ideology and ululation. It gives us instead poignant, often distressing, vignettes and impressions of the day and its aftermath. On page after page, a reader will encounter words that startle, or make him angry, or heartbroken, or queasy." —Tunku Varadarajan, The Wall Street Journal

"Remarkable . . . Incredibly evocative and compelling . . . Allows you to experience this fateful day in an intimately visceral fashion, starting with the ordinary (the sky was gorgeously blue) and progressing to confusion, fear, numbness, and grief. . . . By letting those who were present tell stories in their own words, Graff has created a remarkably effective and deeply moving history. Be careful if you read this book in public—at some point you may encounter a story or detail that will bring back memories that overwhelm you." —Lucinda Robb, The Washington Post

"Intense . . . Dramatic . . . Graff's project beautifully achieves its chief goal—educating people too young or born too late to remember what the day of September 11, 2001, felt like. But it also restores a form [oral history] to its rightful place as necessity." —Ginia Bellafante, New York Times Book Review

"An ambitious oral history of 9/11 from the perspective of nearly everyone involved—from Laura Bush to the first firefighter on the scene to the young gate agent who checked the hijackers' plane tickets. Every single line is breathtaking and heartbreaking, weaving together the story of previously unimaginable and tragic events that changed the course of history." —Newsweek

"Compelling . . . The voices in The Only Plane in the Sky are so vivid. . . . There are snippets in Graff's oral history from those who perished—messages for loved ones left by office workers stranded on the upper floors of the towers; calls from flight attendants and passengers aboard United Flight 93 that were recorded or remembered. But most of the voices in the book belong to survivors. That may explain, at least in part, why The Only Plane in the Sky manages to feel hopeful. . . . Eventually, of course, all of us who remember 9/11 will be gone, and some of our stories will be forgotten. But, thanks to Graff's fine work, many will endure." —Jay Carney, Air Mail

"A harrowing account of the September 11 attacks, told through the voices of many who were personally affected. Graff weaves together the stories of airline workers, first responders, generals at the Pentagon and more to contextualize and seek to further understand the trauma, humanity and history of 9/11." —Time magazine ("The 42 Most Anticipated Books of Fall 2019")

"Oral history at its finest . . . Graff's skillful organization and flawless pacing allows him to present multiple perspectives, quickly shifting locations and points of view around the country, to follow every moment. The result is a smooth-flowing, moving and thoroughly human narrative with emotional impact, a sense of detail and immediacy more powerful and moving than any dramatic film or documentary." —Rich Kienzle, Pittsburgh Post-Gazette

"Much has been written over the past 18 years about 9/11, but none have told the story of that day as powerfully and intimately . . . Sure to become an essential addition to the literature of 9/11, it is the only panoramic account of the day told by the people who experienced it. . . . Graff has created an enduring portrait of a day that changed the world forever, a day that the world will never forget." —Joel Meador, The Messenger

"Graff excels at re-creating the anxiety and terror of that day . . . Readers who emerge dry-eyed from the text should check their pulses: Something is wrong with their hearts." —Kirkus Reviews (starred review)

"Harrowing and powerful . . . This vivid, moving work is painful to read but honors both those who died and those who survived that awful day." —Publishers Weekly (starred review)

"This is history at its most immediate and moving. In The Only Plane in the Sky, Garrett Graff has crafted an enduring portrait of a deadly and consequential day, a day that has shaped all other subsequent days in America for nearly two decades. A marvelous and memorable book." —Jon Meacham, author of The Soul of America

"As I read The Only Plane in the Sky, I was instantly transported back to the chaos, shock, and fear that we all felt on September 11. Reliving the day in real time, through the eyes of Americans on the ground and in the air, had me turning each page with my heart in my throat. I may have known how the story would end, but reading these intensely personal accounts reminded me why this tragic day would change us forever, while the stories of courage and resilience renewed my faith in humanity. There's been a lot written about 9/11, but nothing like this. I urge you to read it." —Katie Couric, author of The Best Advice I Ever Got

"Although many years have passed since 9/11, this book, told with such immediacy, brings so vividly back to mind the shock of that day, and why it continues to shape the tragic history that has followed." —Lawrence Wright, author of The Looming Tower

"The Only Plane in the Sky is a stunning and important work—chilling, heartbreaking—and I cannot stop thinking about it. To hear the voices of those who survived, and those who did not, is so moving and powerful. I learned so much, and am so thankful for this book." —Anderson Cooper, author of Dispatches from the Edge

"Raw, emotional, and intense, this jaw-dropping narrative, composed entirely of firsthand accounts, strips away the politics that have grown up around 9/11 and have clouded its brutal impact on the American psyche. Rarely is history delivered with such vivid sensory detail. Garrett Graff's meticulous reporting transported us, with visceral clarity, back to those horrifying hours that changed us all forever." —Lynn Vincent and Sara Vladic, authors of Indianapolis

"Garrett Graff has deftly used oral history to take us into the one of the most horrific and consequential moments in American history, in a book that will be particularly important for those readers too young to remember September 11, 2001." —Michael Beschloss, author of Presidents of War

"Before there was the written word, there was oral history—one human telling another his or her experience—and Graff takes us back to our human roots in doing what he does here in this harrowing, relentless but ultimately soaring tale. Using 500 or so "voices" culled together from large-scale oral history projects and personal interviews alike, Graff weaves together a narrative that takes your breath away. . . . Intensely readable, deeply personal, and profoundly transformative." —Annie Jacobsen, author of Operation Paperclip and The Pentagon's Brain

"9/11 is one of the hinge events of American history and Garrett Graff adds considerably to our knowledge of the horrors and the heroism that characterized that terrible day. The Only Plane in the Sky is a deeply researched and authoritative account." —Peter Bergen, author of Manhunt

"A truly riveting book, at once tragic and thrilling, and a testament to the power of memory." —Tim Weiner, author of Legacy of Ashes