Healing Our Future: Leadership for a Changing Health System (Hardcover)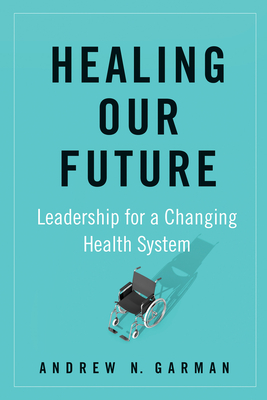 $34.95
Email or call for price
Description
---
Selected for the 2021 AUPHA Bugbee-Falk Book Award list.

This book is a practical, evidence-based guide to seven key leadership disciplines that will help anyone working in healthcare to pursue brighter futures.

In this book, Andrew Garman looks at the major changes facing healthcare organizations and the leadership competencies required to successfully meet those challenges. He explains how people become more effective leaders over time and what science tells us works best in making this happen.

At the heart of this book are seven universal disciplines—values, health system literacy, self-development, relations, execution, boundary-spanning, and transformation—which Garman divides into "enabling" and "action" disciplines. The enabling disciplines encompass the foundational work that makes leadership efforts more effective: learning more about ourselves, deepening our understanding of the world around us, and taking care of ourselves. The action disciplines describe leadership in the context of getting the work done: setting and resetting direction, collaborating inside and outside our organizations, anticipating what's coming, and helping people prepare for it. Collectively, they form an evidence-based common language of leadership that readers can easily map to any model that their organization or profession may already be using.

Each chapter provides a description of the discipline, illustrates why it is important, and offers specific advice on how to raise proficiency. Appendixes offer step-by-step guidance on recruiting and engaging good mentors, along with input on developing long-term and foresight skills.

About the Author
---
Andrew N. Garman, PsyD, is professor in the department of health systems management at Rush University in Chicago and director of the Rush Center for Health System Leadership. He previously served for nine years as CEO of the nonprofit National Center for Healthcare Leadership, where he remains involved in an advisory capacity. He is the author and coauthor of numerous research articles, book chapters, and books, including The Future of Healthcare and Exceptional Leadership.


Praise For…
---
"The American healthcare system of the future will be built increasingly on the strengths of teams, not individuals—an environment where everyone will be a leader. Healing Our Future will be useful for clinicians and others working in teams, as well as individuals considering the pursuit of their first formal leadership role. The book also contains valuable content and reminders for seasoned executives." 
—Thomas M. Priselac, President and CEO, Cedars-Sinai Health System 
 
"I have used this amazing leadership model successfully with my leadership team, resulting in a stronger team and excellent individual development and improvement. This comprehensive leadership model will support the success of individual leaders and organizations alike."
—Cynthia Barginere, COO, Institute for Healthcare Improvement 
  
"Garman embraces the importance of developing leadership skills in everyone, not just those in leadership positions. He offers a crucial overview of healthcare fundamentals, along with practical guidance and resources. This is a must-have book." 
—Jeanne Armentrout, Executive Vice President and Chief Administrative Officer, Carilion Clinic 
 
"Healing Our Future is a transformative must-read for next-generation healthcare organization and system leaders. Dr. Garman offers a superbly crafted research-based leadership road map, and he delivers it in a clear, accessible, and compelling voice." 
—Annie Tobias, former Vice President, Learning and Engagement, Ontario Hospital Association, Canada

"Healing Our Future is what we need for today and to help us achieve a better tomorrow. The book provides important information in an accessible format that will appeal to leaders at every career stage." 
—Christy Harris Lemak, PhD, FACHE, Chair, Department of Health Services Administration, University of Alabama at Birmingham

"Sustainable healthcare delivery is a global challenge, and success increasingly requires leadership at all levels. Although written in the US context, Healing Our Future offers practical, evidence-based advice that can empower all aspiring leaders to help the health systems they work in to build a healthier future."
—Ronald Lavater, CEO, International Hospital Federation

"Leadership is like a fine wine, often taking time and experiences to develop. The development journey in Healing Our Future is structured in a way that ensures readers have practical and achievable solutions to evolve their thinking and leadership style, turning challenges into opportunities." 
—Joseph Moscola, Executive Vice President, Enterprise Management, Northwell Health 
 
"Healing Our Future captures the essence of what is required for our leaders as they prepare for the healthcare challenges of the future. The seven disciplines elegantly capture and detail what should be the learning path for our leaders." 
—Chris Newell, Senior Director of Learning and Development, Boston Children's Hospital

"Andy Garman explores the frailties of healthcare with insight earned from the intellectual rigor of thoughtful research tempered with the scars and bruises from resolute practice. His book presents readers with a blueprint for recognizing their purpose, strengthening competencies, and, lastly but most importantly, being value-driven passionate advocates for health in the community."
—Anthony Stanowski, President and CEO, Commission on Accreditation of Healthcare Management Education