Lake Clark National Park and Preserve Map (National Geographic Trails Illustrated Map #258) (Folded)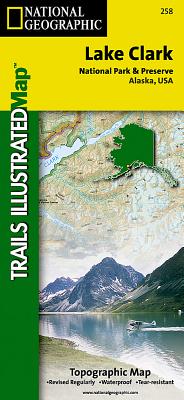 $14.95
Please contact us for more details
Other Books in Series
This is book number 258 in the National Geographic Trails Illustrated Map series.
Description
---
- Waterproof - Tear-Resistant - Topographic Map
National Geographic's Trails Illustrated map of Lake Clark National Park and Preserve was designed for outdoor enthusiasts seeking to explore this wilderness area at the base of the Alaska Peninsula. This expertly researched shaded relief map is the most comprehensive one available, providing an abundance of topographic, adventure and background information. Arrive in the park at one of the pinpointed landing areas, then wander along one of the few park trails, including historic native routes. Continue your expedition into the remote and vast wilderness using the map's contour lines, elevation, labeled peaks and summits, water features and selected waypoints.
The map covers Lake Clark National Park and Preserve in its entirety, including the natural features Telaquana Lake and Mountain; Turquoise, Twin, Snipe, Kontrashibuna and Tazimina Lakes; Tlikakila and Stony Rivers; Copper, Kijik, Neacola and Chigmit Mountains; and Keyes and Tanalian Points. Also covered are nearby McNeil River State Game Refuge and Sanctuary, northern Katmai National Preserve, Mulchatna River, Cook Inlet and Iliamna Lake, along with the many towns surrounding the lake. Valuable information is also provided about arriving in the park, trip planning, backpacking, rafting, hunting and fishing, as well as backcountry safety tips and contact information.
Every Trails Illustrated map is printed on "Backcountry Tough" waterproof, tear-resistant paper. A full UTM grid is printed on the map to aid with GPS navigation.
Other features found on this map include: Augustine Island, Battle Lake, Blockade Lake, Capps Glacier, Ch'akajabena Lake, Chilikadrotna River, Chinitna Bay, Chinitna Point, Chisik Island, Chokotonk River, Chulitna River, Crescent Lake, Drift River, Gagaryah River, Gibraltar Lake, Iliamna Lake, Iliamna Volcano, Iniskin Bay, Kakhonak Lake, Kamishak Bay, Katmai National Park, Katmai National Preserve, Kenibuna Lake, Koksetna River, Kukaklek Lake, Lake Clark, Lake Clark National Park, Lake Clark National Preserve, Little Underhill Creek, Long Lake, Mount Gerdine, Mount Spurr, Mount Torbert, Nikabuna Lakes, Pile River, Redoubt Bay, Redoubt Volcano, Tazimina Lakes, Telaquana Lake, Tlikakila River, Tordrillo Mountains, Triumvirate Glacier, Tundra Lake, Turquoise Lake, Tutna Lake, Tuxedni Bay, Tuxedni Glacier, Twin Lakes, Two Lakes, Ursus Cove, Whitefish Lake.
Map Scale = 1:350,000Sheet Size = 25.5" x 37.75"Folded Size = 4.25" x 9.25"