Wrangell-St. Elias National Park and Preserve Map (National Geographic Trails Illustrated Map #249) (Folded)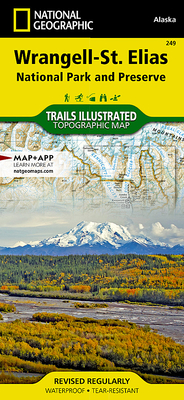 $14.95

Ships to our store in 3-8 Days
Other Books in Series
This is book number 249 in the National Geographic Trails Illustrated Map series.
Description
---
- Waterproof - Tear-Resistant - Topographic Map
At 13.2 million acres, Wrangell-St. Elias could fit Yellowstone, Grand Canyon, Glacier, Olympic, and Yosemite National Parks within its borders with plenty of room to spare. It stretches from one of the tallest peaks in North America, Mount Stain Elias at 18,008 feet, to to the ocean. More than a quarter of the park is covered with glaciers, including the tidewater Hubbard Glacier, piedmont Malaspina Glacier, and valley Nabesna Glacier.
Arrive in the area using one of only two paved roads or use the mapped landing areas, seaplane bases and anchorage sites and continue your exploration with mapped hiking trails and primitive routes. Two insets show detailed access to the Kennicott Valley and Nabesna. Explore the backcountry using the map's contour lines, elevations, labeled peaks and summits, water features, selected waypoints, areas of wooded cover and color-coded boundaries between different land designations. Other recreation and adventure points of interest include ranger stations, campgrounds, trail shelters, public cabins, restrooms and scenic viewpoints. Some additional map features are background information of the various public lands in the area, wilderness safety tips, bear encounter guidelines and essential contact information.
Every Trails Illustrated map is printed on "Backcountry Tough" waterproof, tear-resistant paper. A full UTM grid is printed on the map to aid with GPS navigation.
Other features found on this map include: Allen Glacier, Bagley Ice Valley, Barnard Glacier, Bering Glacier, Bering Lake, Bremner Glacier, Bremner River, Cape Saint Elias, Cape Suckling, Chisana Glacier, Chistochina River, Chitina Glacier, Chitina River, Chugach Mountains, Chugach National Forest, Columbus Glacier, Copper Lake, Copper River, Dadina River, Gakona River, Granite Range, Gulkana River, Guyot Glacier, Hanagita Peak, Hawkins Glacier, Heney Glacier, Hubbard Glacier, Icy Bay, Jatahmund Lake, Jefferies Glacier, Kaliakh River, Kanak Island, Kayak Island, Kennicott Glacier, Klutina River, Klutlan Glacier, Logan Glacier, Long Glacier, Lucia Glacier, Malaspina Glacier, Martin River, Martin River Glacier, Mentasta Mountains, Miles Glacier, Miles Lake, Mount Augusta, Mount Bear, Mount Blackburn, Mount Bona, Mount Churchill, Mount Drum, Mount Jarvis, Mount Sanford, Mount Wrangell, Nabesna Glacier, Nizina River, Nutzotin Mountains, Ocean Cape, Oily Lake, Point Manby, Point Riou, Regal Glacier, Robinson Mountains, Root Glacier, Russell Fiord, Russell Fjord Wilderness, Russell Glacier, Saint Elias Mountains, Schwan Glacier, Seward Glacier, Sheridan Glacier, Steller Glacier, Tana Glacier, Tana River, Tanada Lake, Tazlina River, Tebay Lakes, Tiekel River, Tongass National Forest, Tonsina Lake, Tonsina River, Tyndall Glacier, Walsh Glacier, Wernicke Glacier, Wingham Island, Woodworth Glacier, Wrangell Mountains, Wrangell-St. Elias National Park, Wrangell-St. Elias National Preserve, Yahtse Glacier, Yakutat Bay.
Map Scale = 1:400,000 & 1:110,000Sheet Size = 13.75" x 9.25"Folded Size = 4.25" x 9.25"