Delmarva Peninsula Map (National Geographic Trails Illustrated Map #772) (Folded)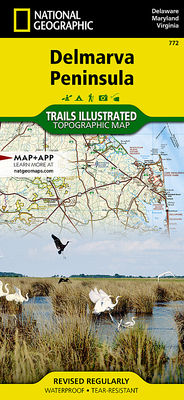 $14.95
Please contact us for more details
Other Books in Series
This is book number 772 in the National Geographic Trails Illustrated Map series.
Description
---
- Waterproof - Tear-Resistant - Topographic Map
Expertly researched and created in partnership with local land management agencies, National Geographic's Trails Illustrated map of Delmarva Peninsula covers all major recreation areas for the Peninsula and Chesapeake Bay region. This beautifully designed map includes all state parks, state wildlife areas, national wildlife areas, and key recreation access points. Highlights include Blackwater and Chincoteague National Wildlife Refuges, Assateague Island National Seashore, Cape Henlopen State Park, and Maryland's Eastern Shore.
This map features detailed topography and bathymetry with shaded relief, elevations, accurate road network, and recreational and water trails. Locations for camping, boating, paddling, hunting, biking, and fishing are displayed. An informative summary of state parks and wildlife refuges, recreational opportunities, colorful images of some of the many fish and birds found in the region, and an extensive activity guide are included as well. Chesapeake Bay Gateways, places through which you can experience and learn about North America's largest estuary, are highlighted to assist you in making the most of your visit.
Every Trails Illustrated map is printed on "Backcountry Tough" waterproof, tear-resistant paper. A full UTM grid is printed on the map to aid with GPS navigation.
Other features found on this map include: Abbey Point, Aberdeen, Annapolis, Assateague Island, Assawoman Bay, Big Annemessex River, Brandywine Creek, Bridgeton, Broad Creek, Broad Neck, Bush River, Cambridge, Cape Charles, Cape Henlopen, Cape Henry, Cape May, Chesapeake and Delaware Canal, Chesapeake Bay, Chester, Chester River, Chincoteague Bay, Choptank River, Christina River, Cohansey River, Coles Point, Conowingo Dam, Conowingo Reservoir, Corsica Neck, Deer Creek, Delaware Bay, Dover, Dragon Swamp, Duck Creek, Eastern Bay, Eastern Neck Island, Easton, Elizabeth River, Elk River, Elkton, Glassboro, Grove Neck, Gunpowder River, Harris Creek, Hart-Miller Island, Havre de Grace, Herring Bay, Herring Creek, Hog Island, Holland Point, Holland Straits, Indian River, Indian River Inlet, James River, Kent Island, Kent Point, Leipsic River, Lincoln University, Lindenwold, Little Assawoman Bay, Loch Raven Reservoir, Love Point, Magothy River, Manokin River, Mantua, Marshyhope Creek, Maurice River, Middle River, Middletown, Miles River, Miles River Neck, Millville, Mispillion River, Mobjack Bay, Nansemond River, New Garden, Newark, North East River, North Point, Noxontown Lake, Old Point Comfort, Parramore Island, Parsons Island, Patapsco River, Patuxent River, Pennsville, Pine Hill, Piney Point, Pocomoke River, Pocomoke Sound, Pooles Island, Poplar Island, Prospect Bay, Rappahannock River, Ridley Creek, Saint Jones River, Saint Marys River, Salem River, Salisbury, Sandy Point, Severn River, Smith Island, Spaniard Neck, Sparrows Point, Spesutie Island, Tangier Island, Tangier Sound, Taunton Lake, Taylors Island, Thomas Point, Tilghman Island, Tilghman Point, Tred Avon River, Tuckahoe Creek, Turkey Point, Vineland, Wallops Island, West River, Wicomico River, Wilmington, Winslow, Woodbury, Worton Point, Wye Island, Wye Neck, York River.
Map Scale = 1:250,000Sheet Size = 25.5" x 37.75"Folded Size = 4.25" x 9.25"