The Everything Wild Game Cookbook: From Fowl And Fish to Rabbit And Venison--300 Recipes for Home-cooked Meals (Everything®) (Paperback)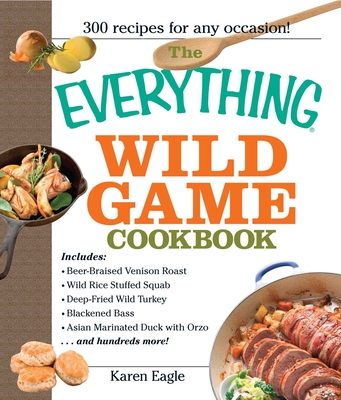 Description
---
Written with the most exotic wild game and fish in mind, this unusual collection features delicious, original recipes designed to please any meat lover's palate, including:

Deer, wild boar, buffalo, and bear
Pheasant, quail, and partridge
Saltwater and freshwater catch
Rubs, relishes, and marinades
Trimmings and desserts

Expert author Karen Eagle also reveals the secrets of cooking wild game, from the various techniques for preparing it (such as roasting and smoking) to substitutions that really work.
With
The Everything Wild Game Cookbook
, it's not just "same-old, same-old" for supper any more!
About the Author
---
Karen Eagle (Kansas City, MO) is the author of many cookbooks and has overseen the development and publication of thirty books produced from her publishing company, Pig Out Publications (and imprint Two Lane Press). She created the Cuisine series of cookbooks that featured the best recipes from restaurants in Kansas City, Memphis, Nashville, Dallas, San Antonio, and San Diego. She is also a cooking teacher, special events speaker, business owner, and food writer. She is a member of Les Dames d'Escoffier and the International Association of Culinary Professionals.