Appalachian Trail: Calf Mountain to Raven Rock Map [Virginia, West Virginia, Maryland] (Other)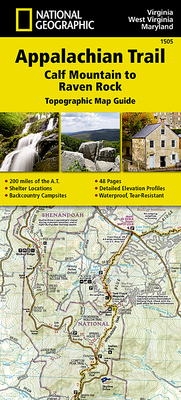 $14.95
Please contact us for more details
Other Books in Series
This is book number 1505 in the National Geographic Trails Illustrated Map series.
Description
---
- Waterproof - Tear-Resistant - Topographic Map
The Calf Mountain to Raven Rock Topographic Map Guide makes a perfect traveling companion when traversing the northern Virginia section of the Appalachian Trail (A.T.). The map covers the area between the southern tip of Shenandoah National Park and the Maryland-Pennsylvania state line and gives hikers an excellent opportunity to experience the Blue Ridge Mountains while still remaining relatively close to towns and highways.
Each A.T. Topographic Map Guide includes detailed topographic maps at a detail of 1 inch = 1 mile. Each page is centered on the A.T. and overlaps with the adjacent pages so there is little chance of getting lost. Along the bottom of each page is a trail profile that shows the distance between shelters, camping areas, and trail access points. The map and trail profile provide a step by step visual guide to hiking the trail, mile by rugged mile. The Topographic Map Guide is built for all levels of hiking enthusiasts, from the day tripper to the multi month 'thru-hiker'. The front pages of the printed Topographic Map Guide include resupply information, town inset maps, camping options, and much more.
Every Topographic Map Guide is printed on "Backcountry Tough" waterproof, tear-resistant paper. A full UTM grid is printed on the map to aid with GPS navigation.
Other features found on this map include: Ashby Gap, ATC Headquarters and Visitor Center, Bearfence Shelter, Black Rock, Blackburn Trail Center Shelter, Blackrock Shelter, Bluemont, Boonsboro, Byrds Nest #3 Shelter, Calf Mtn, Calf Mtn Shelter, Charles Town, Cowall Shelter, Crampton Gap Shelter, David Lesser Shelter, Dicks Dome Shelter, Ed Garvey Shelter, Gathland State Park, Gravel Springs Shelter, Greenbrier State Park, Harpers Ferry, Harpers Ferry National Historic Park, Hightop Shelter, Jim and Molly Denton Shelter, Linden, Manassas Gap Shelter, Pass Mountain Shelter, Pen Mar, Pine Knob Shelter, Pinefield Shelter, Raven Rock, Raven Rock Shelter, Rock Spring Shelter, Rockfish Gap, Rocky Run Shelter, Rod Hollow Shelter, Sam Moore Shelter, Shenandoah National Park, Sky Meadows State Park, Snickers Gap, South Mtn State Park, Stony Man, Tom Floyd Wayside Shelter, Turners Gap, Waynesboro.
Map Scale = 1:63,360Folded Size = 4.25" x 9.25"