Appalachian Trail: Schaghticoke Mountain to East Mountain Map [Connecticut, Massachusetts] (Other)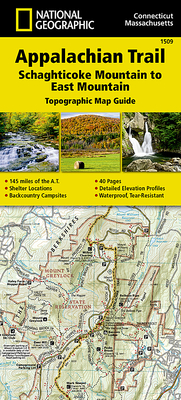 $14.95
Please contact us for more details
Other Books in Series
This is book number 1509 in the National Geographic Trails Illustrated Map series.
Description
---
- Waterproof - Tear-Resistant - Topographic Map
The Schaghticoke Mountain to East Mountain Topographic Map Guide makes a perfect traveling companion when traversing the Connecticut and Massachusetts sections of the Appalachian Trail (A.T.). The trail in this section of New England skirts the northwest corner of Connecticut and traverses what remains of a once mighty mountain range. The hiking is moderate through Connecticut and the climbs are short, but can be steep. As the trail crosses into Massachusetts, it enters the Berkshires, characteristic of wooded hills, outstanding views with pleasant, flat hiking along the Berkshire plateau.
Each A.T. Topographic Map Guide includes detailed topographic maps at a detail of 1 inch = 1 mile. Each page is centered on the A.T. and overlaps with the adjacent pages so there is little chance of getting lost. Along the bottom of each page is a trail profile that shows the distance between shelters, camping areas, and trail access points. The map and trail profile provide a step by step visual guide to hiking the trail, mile by rugged mile. The Topographic Map Guide is built for all levels of hiking enthusiasts, from the day tripper to the multi month 'thru-hiker'. The front pages of the printed Topographic Map Guide include resupply information, town inset maps, camping options, and much more.
Every Topographic Map Guide is printed on "Backcountry Tough" waterproof, tear-resistant paper. A full UTM grid is printed on the map to aid with GPS navigation.
Other features found on this map include: Bear Mtn, Beartown State Forest, Brassie Brook Shelter, Cheshire, Clarksburg State Forest, Cornwall Bridge, Dalton, East Mtn State Forest, Falls Village, Glen Brook Shelter, Great Barrington, Housatonic State Forest, Kay Wood Shelter, Kent, Lee, Limestone Spring Seth Warner Shelter, Mark Noepel Shelter, Mount Algo Shelter, Mount Greylock State Reservation, Mt Everett, Mt Greylock, Mt Wilcox North Shelter, Mt Wilcox South Shelter, North Adams, October Mountain State Forest, October Mtn Shelter, Pine Swamp Brook Shelter, Pittsfield, Rand's View, Riga Shelter, Stewart Hollow Brook Shelter, Ten Mile River Shelter, The Hemlocks Shelter, Tom Leonard Shelter, Tyringham, Wilbur Clearing Shelter, Wiley Shelter.
Map Scale = 1:63,360Folded Size = 4.25" x 9.25"