Appalachian Trail: Mount Carlo to Pleasant Pond Map [Maine] (Other)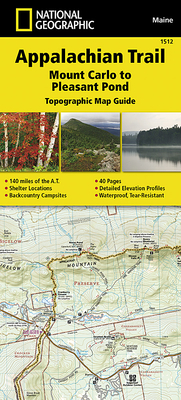 $14.95
Please contact us for more details
Other Books in Series
This is book number 1512 in the National Geographic Trails Illustrated Map series.
Description
---
- Waterproof - Tear-Resistant - Topographic Map
The Mount Carlo to Pleasant Pond Topographic Map Guide makes a perfect traveling companion when traversing the southern Maine section of the Appalachian Trail (A.T.). The A.T. through Maine offers some of the most challenging sections of trail along the A.T., both in rugged terrain and weather conditions, and is not recommended for the unprepared hiker.
Each A.T. Topographic Map Guide includes detailed topographic maps at a detail of 1 inch = 1 mile. Each page is centered on the A.T. and overlaps with the adjacent pages so there is little chance of getting lost. Along the bottom of each page is a trail profile that shows the distance between shelters, camping areas, and trail access points. The map and trail profile provide a step by step visual guide to hiking the trail, mile by rugged mile. The Topographic Map Guide is built for all levels of hiking enthusiasts, from the day tripper to the multi month 'thru-hiker'. The front pages of the printed Topographic Map Guide include resupply information, town inset maps, camping options, and much more.
Every Topographic Map Guide is printed on "Backcountry Tough" waterproof, tear-resistant paper. A full UTM grid is printed on the map to aid with GPS navigation.
Other features found on this map include: Andover, Bald Mtn Brook Shelter, Baldpate Mountain, Baldpate Shelter, Bemis Mountain, Bemis Mtn Shelter, Bigelow Mountain, Caratunk, Carlo Col Shelter, Crocker Mountain, Elephant Mountain, Frye Notch Shelter, Full Goose Shelter, Hall Mtn Shelter, Horns Pond Shelter, Kennebec River, Little Bigelow Shelter, Mahoosuc Arm, Mount Carlo, Old Blue Mountain, Piazza Rock Shelter, Pierce Pond Shelter, Pleasant Pond Mtn Bigelow Preserve, Pleasant Pond Shelter, Poplar Ridge Shelter, Sabbath Day Pond Shelter, Saddleback Mountain, Sebasticook Lake, Spaulding Mountain, Spaulding Mtn Shelter, Speck Pond Shelter, Sugarloaf Mountain, West Carry Pond Shelter, Wyman Mountain.
Map Scale = 1:63,360Folded Size = 4.25" x 9.25"