Make Trouble (Hardcover)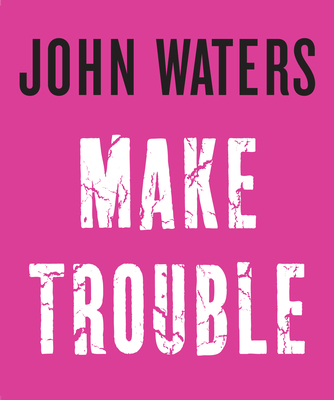 $15.95
Please contact us for more details
Description
---
From an icon of popular culture, here is inspiring advice for artists, graduates, and all who seek happiness and success on their own terms.

So what if you have talent? Then what?

When John Waters delivered his gleefully subversive advice to the graduates of the Rhode Island School of Design, the speech went viral, in part because it was so brilliantly on point about making a living as a creative person. Now we can all enjoy his sly wisdom in a manifesto that reminds us, no matter what field we choose, to embrace chaos, be nosy, and outrage our critics.

Anyone embarking on a creative path, he tells us, would do well to realize that pragmatism and discipline are as important as talent and that rejection is nothing to fear. Waters advises young people to eavesdrop, listen to their enemies, and horrify us with new ideas. In other words, MAKE TROUBLE!

Illustrated with slightly demented line drawings by Eric Hanson, Make Trouble is a one-of-a-kind gift, the perfect playbook for gaming the system by making the system work for you. 
About the Author
---
John Waters is a filmmaker, writer, actor, and visual artist best known for his films, including Pink Flamingos, Serial Mom, and Hairspray, which was adapted into a long-running Broadway musical. The author of seven books, among them the New York Times bestsellers Role Models and Carsick, he performs his one-man, spoken-word shows regularly in the United States and abroad. Waters lives in Baltimore, Maryland.
 
Praise For…
---
"Make Trouble, adapted from his speech to the Rhode Island School of Design class of 2015, is a commencement address I consumed with joy, will likely read again and would be happy to give to young people — especially brooding, complicated young people. (Yes, you.) Its pleasures are enhanced by playful typography and droll, sketchy illustrations by Eric Hanson, including several delightful ones of Waters, a pencil-thin man with a pencil-thin mustache. Like "Hairspray," "Make Trouble" fulfills its genre expectations while also gloriously subverting them. Waters gives inspiring advice…"
─ Milwaukee Journal Sentinel
 
"…simultaneously witty and inspirational, has the potential to top the best commencement speeches of all time. … a great read. With simple, imaginative illustrations, it inspires all outsiders who strive to change society one brushstroke, word or shot at a time."
─The Tufts Daily
 
"John Waters is the master of screwing things up beautifully, particularly alongside introspective doodles by Eric Hanson that accompany most of the book's pages.. It's thoughtfully considered, yet maintains some of Waters' signature well-intentioned belligerence. Some of the pages are shocking or thought-provoking in their layout; Some of the accompanying images are contemplative while others are hilarious. Ultimately, Make Trouble leaves me wondering what to expect next from Waters. He is the modern day Oscar Wilde, but this book is by no means his De Profundis. It's more of a reminder that he's still out there, still thinking and creating, ready to — as he calls it — prepare a sneak attack on society. In a lot of ways, the book feels like his most intensely personal work yet. It's nice to think that these words are aimed at students graduating college, but really they reflect Waters' manifesto. The speech is timeless and could be taken from any point in his career, but it's a reminder that he's not done with us. With the massive social changes going on today, his words are poignant now more than ever."
─ Johns Hopkins News-Letter
 
"…as funny as it is inspiring. Make Trouble is an injection of weirdness, joy, and provocation right into your brain."
─ San Francisco Book Review