Pen & Ink: Tattoos and the Stories Behind Them (Hardcover)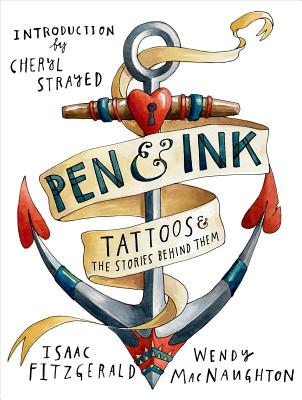 Description
---
Every tattoo tells a story, whether the ink is meaningful or the result of a misguided decision made at the age of fourteen, representative of the wearer's true self or the accidental consequence of a bender. These most permanent and intimate of body adornments are hidden by pants legs and shirttails, emblazoned on knuckles, or tucked inside mouths. They are battle scars and beauty marks, totems and mementos.

Pen & Ink grants us access to the tattoos-and the stories behind them-of writers Cheryl Strayed and Roxane Gay; rockers in the bands Korn, Otep, and Five Finger Death Punch; and even a porn star. But it also illuminates the tattoos of the ordinary people living in our midst-from professors to thrift store salespeople, cafe owners to librarians, union organizers to administrators-and their extraordinary lives.

Curated and edited by Isaac Fitzgerald, who sports twelve tattoos himself, each story "is like being let in on . . . secrets by . . . strangers who passed you on the street or sat across from you on the train" (Strayed) and features Wendy MacNaughton's gorgeously rendered full-color illustrations of the tattoos on black-and-white drawings of the bearer's body. At its heart, beneath its colorful skin, Pen & Ink is an exploration of the decision to scar one's self with a symbol and a story.
About the Author
---
Isaac Fitzgerald appears frequently on The Today Show and is the author of the bestselling children's book How to Be a Pirate as well as the co-author of Pen & Ink and Knives & Ink (winner of an IACP Award). His writing has appeared in the New York Times, the Guardian, the Best American Nonrequired Reading, and numerous other publications. He lives in Brooklyn.
Praise For…
---
"Oh my god, this gorgeous, gorgeous book. It will, like its subject, alter you permanently. We sometimes forget: each tattoo has its story. Many are lovingly recorded here--from the wicked to the profound to the ridiculous. This gorgeous, gorgeous book perfectly chronicles the stories that we wear on our skin." —Colin Meloy, lead singer of The Decemberists

"For anybody who ever looked at a stranger's tattoo and wondered why?, Pen & Ink offers a gorgeous, hilarious, and moving Because. In its pages, the most amateurish, outlandish, and bizarre tattoos become portals into their owners' lives and dreams. In the process, they become beautiful." —Peter Trachtenberg, author of Seven Tattoos

"In Pen & Ink, Isaac Fitzgerald and Wendy MacNaughton have captured the fascinating stories people secret beneath their skin, how they have marked their skin and why. The revelations in this remarkable collection are, in turns, poignant, charming, heartbreaking, and honest. Like tattoos, these stories leave an impression that will linger." —Roxane Gay

"Inspired . . . Drawn in a whimsical, tender style, MacNaughton's portraits are captivating in their intimacy . . . Without judgment or regret, this emotionally raw collection, featuring an introduction by Cheryl Strayed, explores how we find permanence in an impermanent world." —Publishers Weekly

"Kitschy, hipster . . . MacNaughton's drawings are lovely . . . . The book is charming . . . enchanting. This is a title that readers can leaf through a little at a time, savoring the illustrations, or perhaps devour in one sitting." —Library Journal

"[One of] the best art books of 2014." —Huffington Post

"The real reasons people get tattoos." —Flavorwire, 25 Must-Read Books for the Fall

"Fascinating . . . Gorgeous." —Mother Jones

"Each ink drawing is a secret story. What I love most about this book is that it doesn't cover just huge sleeves and complicated tattoos, it also honors the newly popular (again) art of poke-and-stick tattoos." —Design*Sponge, Best Illustrated Books

"Pen & Ink is absolutely delightful from cover to cover." —Maria Popova, Brain Pickings

"Beautifully illustrated . . . More than a keepsake for tattoo enthusiasts; it is an artifact of diverse, deeply human histories, like the cave paintings of Lascaux or an illuminated manuscript, a compilation of intimate knowledge we can only hope to see continued in the future." —Shelf Awareness

"Illustrator and visual storyteller Wendy MacNaughton--she of extraordinary sensitivity to the human experience--and editor Isaac Fitzgerald catalog the wild, wicked, wonderfully human stories behind people's tattoos. . . . The stories--sometimes poetic, sometimes political, always deeply personal--brim with the uncontainable, layered humanity that is MacNaughton's true medium." —Brain Pickings' Best Art, Design & Photography Books of 2014

"Pen & Ink takes a brilliant concept--hey, what's the story behind your tattoo?--and brings it to life with MacNaughton's vivid illustrations and BuzzFeed Books editor Fitzgerald's knack for getting true, fantastic stories . . . The collected portraits are funny and sometimes heartbreaking, and they show human nature and experience in all its endearing colors." —Flavorwire, "The Year's Most Beautiful and Interesting Art Books"

"Pen & Ink reads like a good book of poetry, like an illustrated sonnet sequence. It makes literature out of the experience of tattoos without being . . . precious, or pretentious, or opaque, or ugly. This book is as strong and weird and reckless and smart as the people in it." —The Drunken Odyssey

"The second my eyes met the beautiful drawings I was in love." —Conz Preti, ABCNews.com on the Pen & Ink Tumblr

"Reveal[s] the often hilarious, sometimes poignant stories behind these permanent remnants of our fleeting opinions, passions and phases." —O, The Oprah Magazine on the Pen & Ink Tumblr

"New favorite Tumblr." —Maria Popova, @brainpicker on the Pen & Ink Tumblr