Champa Bay: The Tampa Bay Buccaneers' Unforgettable 2020 Championship Season (Paperback)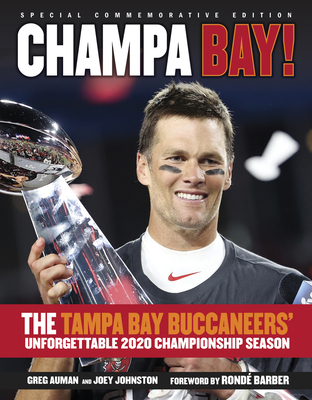 Description
---
The Tampa Bay Buccaneers are Super Bowl Champions!

In Super Bowl LV, the Tampa Bay Buccaneers capped off an incredible season by triumphing over Patrick Mahomes and the Kansas City Chiefs, seizing their first Super Bowl win since the Gruden era and returning the franchise to glory.

Champa Bay: The Tampa Bay Buccaneers' Unforgettable 2020 Championship Season takes fans on the amazing journey that was the 2020-2021 campaign, from the momentous arrival of Tom Brady to navigating new norms as a team amid a global pandemic.

Through electrifying stories by Greg Auman and Joey Johnston plus dozens of vivid photos, relive the fight to end a 12-season playoff drought, postseason victories against the Saints and Packers and a Super Bowl night on Bucs home turf that will live on forever in the minds of Tampa Bay fans.

This commemorative edition also features in-depth profiles on Brady, Mike Evans, Rob Gronkowski, Bruce Arians, and more.
About the Author
---
Greg Auman covers the Tampa Bay Buccaneers for The Athletic. He previously spent 19 years as a writer with the Tampa Bay Times, reporting on the Bucs and the NFL as well as the University of South Florida. He covered the Bucs' Super Bowl in 2003, the last Super Bowl in Tampa in 2009 and other Final Fours, Stanley Cup finals and college football national championships along the way.

Joey Johnston has covered Tampa Bay Area sports for more than three decades, mostly for the Tampa Tribune and the Tampa Bay Times. He has won multiple national and state writing awards, while covering events such as the World Series, Super Bowl, Stanley Cup Final, Final Four, College Football Playoff, Wimbledon, the U.S. Open and all the major bowl games. He serves as football sideline reporter and men's basketball analyst for University of South Florida radio. Read his past work at www.JoeyJohnstonCommunications.com.

Rondé Barber played 16 seasons at defensive back for the Tampa Bay Buccaneers. He was a five-time Pro Bowler, a three-time first-team All-Pro and a member of the 2002 team that won Super Bowl XXXVII.