The Running Body: A Memoir (Autumn House Nonfiction Prize) (Paperback)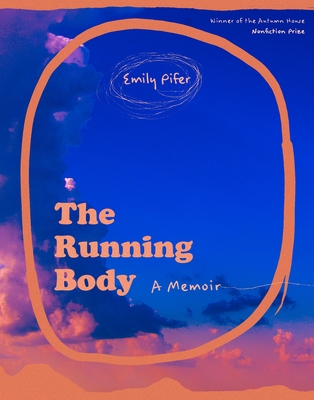 $17.95

Ships to our store in 3-8 Days
Description
---
A memoir of addiction, body image, and healing, through the lens of a long-distance runner.
 
Emily Pifer's debut memoir, The Running Body, wrestles and reckons with power and agency, language and story, body dysphoria and beauty standards, desire and addiction, loss and healing. Pifer employs multiple modes of storytelling—memoir, meditation, and cultural analysis—interweaving research, argument, and experience as she describes how, during her time as a collegiate distance runner, she began to run more while eating less. Many around her, including her coaches, praised her for these practices. But as she became faster, and as her body began to resemble the bodies that she had seen across start-lines and on the covers of running magazines, her bones began to fracture. Pifer tells her story alongside the stories of her teammates, competitors, and others as they all face trouble regarding their bodies.

Through the lens of long-distance running, Pifer examines the effects of idolization and obsession, revealing the porous boundaries between what counts as success and what is considered failure. While grounded in truth, The Running Body interrogates its relationship to magical thinking, the stories we tell ourselves, and the faultiness of memory. Fractures, figurative and literal, run through the narrative as Pifer explores the ways bodies become entangled in stories.
 
The Running Body was selected by Steve Almond as the winner of the 2021 Autumn House Nonfiction Prize.
 
About the Author
---
Emily Pifer received her MFA in creative nonfiction from the University of Wyoming and is now a PhD candidate in composition and cultural rhetoric at Syracuse University, where she teaches courses in creative nonfiction and critical research and writing. Her work has appeared in The Fiddlehead, Brevity's Nonfiction Blog, Women's Health, Esquire, and elsewhere. Emily is from West Virginia and Ohio. 
Praise For…
---
"The Running Body is a most unusual book - little in words but big in philosophy. . . . I was mesmerized - the flow reminded me of honey yet the sentences would repeat themselves, would be fragments, would be otherwise unique."
— Patch

"The Running Body isn't just a splendid book about life as a competitive runner. It is a searing exploration of what it means to give yourself over to the beauty and pain of competition, to run for your life but also against it. Emily Pifer is fearless in her pursuit of the truth, not just about running but disordered eating, patriarchal culture, the male gaze, our frantic quest for control, and the role of sports in our society. I felt I was listening to a voice that had vital things to say, and that helped me understand my life, as well as hers."
— Steve Almond, author of Candyfreak and Against Football

"I couldn't put this book down. With gut-wrenching honesty and startling courage, Pifer documents her harrowing descent into the dark side of elite running, where the pursuit of physical perfection is non-negotiable and potentially deadly. A moving, important story."
— Anelise Chen, author of So Many Olympic Exertions

"It is beautiful to watch Pifer find her way back to herself, sentence by sentence, in this triumphant memoir."
— Leah Dieterich, author of Vanishing Twins: A Marriage