Three Hours in Paris (Hardcover)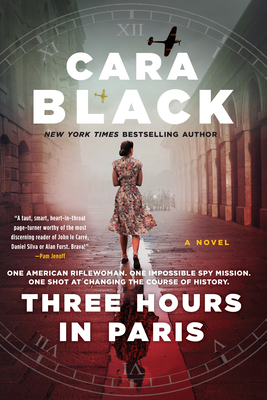 Staff Reviews
---
Book Clubs will love this page turning spy novel set in WWII Paris.  The imagined history of an assassination attempt on Hitler by an American woman grips you from start to finish.  Diving into motivations, betrayals, and the imminent danger of the mission, this standalone novel is a fabulous entry to Cara Black's suspenseful and well-researched writing.  Love this and then get going on her Aimee Leduc series!
— Meghan
Description
---
In June of 1940, when Paris fell to the Nazis, Hitler spent a total of three hours in the City of Light—abruptly leaving, never to return. To this day, no one knows why.

The New York Times bestselling author of the Aimée Leduc investigations reimagines history in her masterful, pulse-pounding spy thriller, Three Hours in Paris.

Kate Rees, a young American markswoman, has been recruited by British intelligence to drop into Paris with a dangerous assignment: assassinate the Führer. Wrecked by grief after a Luftwaffe bombing killed her husband and infant daughter, she is armed with a rifle, a vendetta, and a fierce resolve. But other than rushed and rudimentary instruction, she has no formal spy training. Thrust into the red-hot center of the war, a country girl from rural Oregon finds herself holding the fate of the world in her hands. When Kate misses her mark and the plan unravels, Kate is on the run for her life—all the time wrestling with the suspicion that the whole operation was a set-up.

Cara Black, doyenne of the Parisian crime novel, is at her best as she brings Occupation-era France to vivid life in this gripping story about one young woman with the temerity—and drive—to take on Hitler himself.

*Features an illustrated map of 1940s Paris as full color endpapers.
About the Author
---
Cara Black is the author of nineteen books in the New York Times bestselling Aimée Leduc series. She has received multiple nominations for the Anthony and Macavity Awards, and her books have been translated into German, Norwegian, Japanese, French, Spanish, Italian, and Hebrew. She lives in San Francisco with her husband and son and visits Paris frequently.
Praise For…
---
An ABA Indie Next Pick for April 2020

Praise for Three Hours in Paris

"Beyond Black's encyclopedic knowledge of Paris, her deft interweaving of WWII history and spycraft with a relatable female protagonist puts Three Hours in Paris on par with other top thrillers about botched missions followed by harrowing escapes—such masterworks as Frederick Forsythe's The Day of the Jackal, Jack Higgins' The Eagle Has Landed and Tom Clancy's Patriot Games."
—Paula Woods, The Los Angeles Times 

"In Three Hours in Paris, Cara Black brings her masterful knowledge of the city and its people to the Second World War and an imagined failed attempt on the life of Adolf Hitler by a female American sniper that leaves her fate and that of the war effort very much hanging in the balance. The result is a taut, smart, heart-in-throat page-turner worthy of the most discerning reader of John le Carré, Daniel Silva or Alan Furst—brava!"
—Pam Jenoff, New York Times bestselling author of The Lost Girls of Paris

"Breathtaking! I found it hard to breathe from the first page. A worthy successor to The Day of the Jackal and Six Days of the Condor, but with the addition of a real and likable heroine. This thriller takes Cara Black to a whole new level."
—Rhys Bowen, New York Times bestselling author of The Tuscan Child, In Farleigh Field and the Royal Spyness series

"I couldn't stop reading Cara Black's newest! A young American markswoman named Kate Reese is sent to Paris to assassinate Hitler—what could possibly go wrong? Everything, as it turns out, prompting an intense cat-and-mouse chase through the blacked-out City of Light. Nothing is as it seems, certainly not for Kate, as she tries to escape and make it back to Britain with plans of the secret of the Nazi invasion. Black keeps you guessing—and biting your nails—up to the very last page."
—Susan Elia MacNeal, author of the New York Times–bestselling Maggie Hope series

"An unbreakable American heroine pitted against a charismatic German detective: pure gold in a wartime thriller. This hair-raising cat-and-mouse race across Nazi-occupied Paris left me breathless."
—Elizabeth Wein, award–winning author of Code Name Verity

"A high-octane read that will thrill crime fans from start to finish."
—My French Country Home Magazine

"Brilliantly building on the novel's premise, Black constructs a surprise-filled plot, fueled by breathless pacing, Alan Furst-like atmosphere, and a textured look at Resistance fighters in Paris . . . Black stretches her wings here, soaring to new heights."
—Booklist, Starred Review

"Riveting . . . Fans of The Day of the Jackal won't want to miss this heart-stopping thriller."
—Publishers Weekly

"Well-written . . . Fast . . . Books like this, fiction or not, are important."
—Nerd Daily

"There is a serious problem with Cara Black's new stand-alone novel—you won't be able to sleep once you start reading it! A beautifully written fast-paced thriller with a depth of knowledge about tough American mamas and WWII Paris. Stunning."
—Liz Newstat, Chevalier's Books (Los Angeles, CA)

"Based on nothing more than the title, Three Hours in Paris was not the book I expected! In part, that's because this is a real departure for Cara Black. This is not Aimée Leduc's France. The story is an exquisitely tense cat-and-mouse chase between and American operative and a Nazi officer in the dark days of WWII. Vive la difference! This one is a must-read!"
—Susan Tunis, Bookshop West Portal (San Francisco, CA)

"Few know the streets of Paris as well as Cara Black, and no one is as good at bringing a suspenseful thriller to life in the twists and turns of their back alleys and memorable sites. With smart complex characters, fascinating historical details, and a propulsive story that doesn't disappoint Three Hours in Paris is a literary thrill ride that shouldn't be missed." 
—Luisa Smith, Book Passage (Bay Area, CA)

"I just loved this. It ratchets up very quickly and never lets go—a high stakes cat and mouse tour through the heart of Paris that features constant danger around every turn for the protagonist, from several sources not the least of which is a sadistic Nazi officer. This is the very best kind of thriller whereby using one's wits is the only way forward. A big thumb's up!"
—Sheryl Cotleur, Copperfield's Books (Sebastopol, CA)

"A fresh take on the espionage novel genre. Kate is a dynamic and creative character. Her spontaneity, resourcefulness and creativity reminded me of so many smart women that I know. I enjoyed being in her head and watching her think!"
—Totsie McGonagle, Buttonwood Books (Cohasset, MA)

"WOW, what a page turner! Kate Rees, a sharpshooter raised on an Oregon ranch, accepts a top-secret mission to assassinate Hitler while the Fuhrer is in Paris. Kate accepts this life and death preposterous mission because it is an opportunity for her to avenge the deaths of her British husband and infant daughter. Dropped into the Nazi-occupied city, Kate follows specific instructions given to her by the director of a covert section of British intelligence. When the attempt fails, Kate realizes—too late—that the mission was extremely well planned, with one exception: there is no escape strategy for her. Trapped in Paris, she is pursued by Gunter Hoffman, the German police officer given 36 hours by the Fuhrer to find the sniper. Kate is forced to work independently, and must rely on her wits as a cat-and mouse hunt ensues. Who is to be trusted? Who could be a spy, ready to turn her over to the Nazis? Each chapter ends in a cliff-hanger, as the plot unfolds through the streets of Paris, told from three viewpoints: the Germans, the British, and Kate. I don't know when a book has so held me captive—I couldn't put it down until I reached the conclusion on the final page!"
—Mary Fran Buckley, Eight Cousins (Falmouth, MA)

"This is a second world war thriller with a Paris setting. The heroine is Kate Rees, an American markswoman working for British intelligence. She is dropped into France with a mission to assassinate Adolf Hitler. The mission takes many twists and turns, with Rees meeting and overcoming many challenges while working her way out of France after a failed assassination attempt. The book is well written and moves along at a brisk pace. The reader will find the many situations faced by Rees as believable. Cara Black has an obvious 'feel' for Paris, especially during the Nazi occupation. She also shows how capable a woman can be facing adverse circumstances."
—John McGonagle, Buttonwood Books (Cohasset, MA)

Praise for Cara Black

"Transcendently, seductively, irresistibly French."
—Alan Furst

"Wry, complex, sophisticated, intensely Parisian . . . One of the very best heroines in crime fiction today."
—Lee Child

"So authentic you can practically smell the fresh baguettes and coffee."
—Val McDermid
 
"The real joy of Murder on the Left Bank is in its familiar cast and its thoughtful, witty, occasionally melancholy evocation of Paris, the city where we keep so many of our most beautiful ideas about what life might mean." 
—USA Today

"Marvelous . . . Murder on the Left Bank boasts all of Black's trademark charms, including deft plotting, sharp dialog and colorful sights and sounds."
—Chicago Tribune 
 
"Leduc is a refreshing and entertaining guide to Parisian neighborhoods and cultures, especially those that well-established tourist routes typically pass by. Let's hope she never runs out of districts to scoot around in."
—The Seattle Times
 
"[Black] draws the reader into the intricacies of Paris while driving the mystery forward to make it an ultimate page-turner."
—The San Francisco Chronicle
 
"Black creates rich, plausible characters, giving them individuality and depth."
—San Francisco Gate