Rajneeshpuram: Inside the Cult of Bhagwan and Its Failed American Utopia (Hardcover)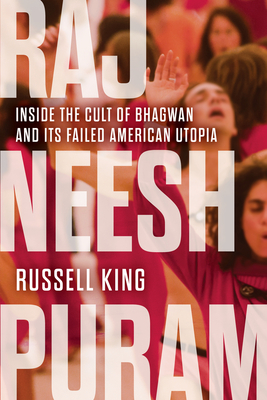 $30.00

Available at One of Our Locations
Description
---
"Russell King has written the most definitive account of this grand American saga. Rajneeshpuram is rich storytelling." —Chapman and Maclain Way, directors of Wild Wild Country
 
In 1981, ambitious young Ma Anand Sheela transported the Indian guru Bhagwan Shree Rajneesh to the United States to fulfill his dream of creating a utopia for his thousands of disciples. Four years later, the incendiary Rajneeshpuram commune in Oregon collapsed under the weight of audacious criminal conspiracies hatched in its inner sanctum, including the largest bioterrorism attack in US history, an unprecedented election fraud scheme, and multiple attempted murders.
 
Rajneeshpuram explores how this extraordinary spiritual community, featured in the Netflix docuseries Wild Wild Country, went so wrong. Drawing from extensive interviews with former disciples and an exhaustive review of commune records, government and police files, and archival materials, author Russell King probes the charismatic power that Bhagwan (later known as Osho) and Sheela exercised over the community and the turbulent legal and political environment that left commune leaders ready to deceive, poison, and even murder to preserve their home and their master.
 
Rajneeshpuram is a fresh examination of the Rajneesh story, using newly available information and interviews with high-ranking disciples who have never before shared their stories.
About the Author
---
Russell King is a writer, investigator, and attorney. In 2018 he created the podcast Building Utopia: Bhagwan Shree Rajneesh, which explores the history of Bhagwan and his disciples using an immersive narrative nonfiction approach. A former partner at an international law firm, King draws on his experience piecing together factual narratives based on contradictory evidence to tackle this rich and complicated history.
Praise For…
---
"Russell King has written the most definitive account of this grand American saga. Rajneeshpuram is rich storytelling, weaving together behind-the-scenes testimonies with factual precision. King has crafted an investigative brew of religious zealotry, xenophobia, local politics, personal betrayals, and warfare. This is a rabbit hole you cannot wait to go down; at times you'll ask yourself, 'Did all this really happen?' And the answer is, yes—it did." —Chapman and Maclain Way, directors of Wild Wild Country

"Rajneeshpuram was my home in the '80s as a child and a teenager. Russell King's book powerfully tells the very dramatic story of this 'utopia.' Through his words I can feel the many voices he's interviewed and researched to try to tell this story from a place of wanting to understand 'what happened here.' As an ex-resident I truly appreciate that approach as many voices are included, and neither the good or the bad are being sensationalized. This story is not only about one or two people who gained a lot of notoriety at the time, and it touches on many lives and many emotional topics. There's always more to any story, especially one that involved so many players, and this book is a very well conceived introduction to it all. If anyone asks me for the most complete recounting of the story of Rajneeshpuram that I've seen, I would point them to this book." —Dickon Kent, former commune member

"King's intense focus on the inside of the cult is fascinating, and paints a tense, claustrophobic picture of a society collapsing in on itself." — Blogtown

"Simultaneously horrifying and captivating, and readers interested in books about cults won't be able to turn away." — Booklist