Grow, Baby, Grow!: Watch Baby Grow Month by Month! (Hardcover)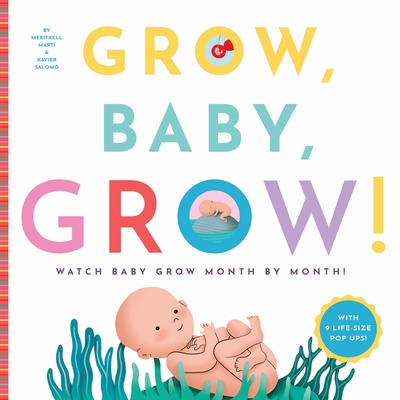 Description
---
See baby grow and develop month by month with 9 stunning, life-size pop-ups! Grow, Baby, Grow! artistically and poetically illustrates the growth of a baby before birth by comparing him or her to something wonderful and familiar: a pearl on the beach, a cherry on a limb, a starfish in the sea. Grow, Baby, Grow! is a beautiful treasure for expecting mothers, new arrivals, and curious siblings-to-be.
About the Author
---
Meritxell Marti is a writer, professor of humanities, consultant of entrepreneurship, and an expert in connecting ideas. She's also skilled in public speaking, motivation, and a foment of creative projects.
Xavier Salomo is an illustrator and paper engineer. He has collaborated with leading publishers in Spain and France and has worked on children's magazines. Xavier has won the Junceda Prize twice.
Praise For…
---
"A parent recounts the stages of a fetus's development using vivid comparisons to objects in nature ("a little pearl inside an oyster"), while Salomó's life-size pop-ups show it cradled in its surroundings. The developing fetus is the size of a cherry, then of a frog, "as big as a sunflower," and, in the sixth month, "bigger than my hand, like a starfish surrounded by coral." In the eighth month, "it was almost time to fly," and the child is shown in a bird's nest, surrounded by white flowers. Martí includes details about a fetus's physical changes in the womb, as well as the mother's reflections on its movements: "Sometimes you had hiccups!" Young readers will enjoy seeing the gestational changes in each pop-up spread. Ages 5–7. (Mar.)"
- Publishers Weekly