Lit for Little Hands: A Christmas Carol (Board book)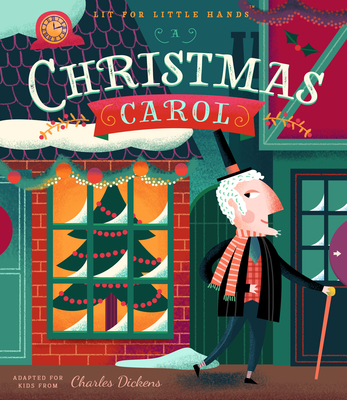 $12.99
Please contact us for more details
Other Books in Series
This is book number 4 in the Lit for Little Hands series.
Description
---
Bah! Humbug! Charles Dickens' classic Christmas ghost story, a tale of human nature and second chances, comes to life for children! Tons of interactive elements invite kids to follow the miserly Ebenezer Scrooge as he is haunted by the Ghosts of Christmas and learns the value of kindness. Much more than a primer, Lit for Little Hands: A Christmas Carol tells the actual story in simple, engaging prose, and fans of the novella will be delighted by the book's attention to detail and clever use of original dialogue. And the book's use of super-sturdy board means everyone can enjoy this tale of Christmas spirit over . . . and over . . . and over again!
About the Author
---
Brooke Jorden earned a BA in English and editing from Brigham Young University. The author of the Lit for Little Hands series and other books for children, Brooke is also the managing editor at Familius and the mother of three.
David Miles is an illustrator, web designer, and publisher of books to help families be happy.
Praise For…
---
"Direct quotes sprinkled throughout are appropriate and iconic"
-
Kirkus Reviews
One of the world's most recognizable novels, Charles Dickens' 
A Christmas Carol
 has thrilled readers ever since it was published on December 19, 1843. The novel's combination of spooky ghosts, a loving family, and a lost soul in need of redemption keeps readers and listeners enthralled no matter how many times they've read it. But why should adults and older kids have all the fun? Now, with this Lit for Little Hands board book, even the youngest readers can enjoy all the intrigue of 
A Christmas Carol
.
Brooke Jorden's nimble adaptation loses none of the snap of the original. Turn to the first page and there is Bob Cratchit toiling away under the gaze of a stern Ebenezer Scrooge who "was the meanest miser the world had ever known." The counting house is as cold as Scrooge's hatred of Christmas. On a pull-out tab kids even see him send away a little boy who's come caroling. That night at home "a terrible clanking noise" interrupts Scrooge's meager meal. What we know—but little ones might not—is what lurks on the other side of Scrooge's door. With the pull of a tab, kids slide open the door to reveal the ghostly figure of Jacob Marley "surrounded by a heavy iron chain: punishment for all the cruel things Marley had done while he was alive." He tells Scrooge he's in for the same unless he changes his ways and tells him to expect three more ghosts.
Another turn of the page brings the Ghost of Christmas past. When kids pull the tab, the ghost and Scrooge fly from the window into the night sky and to the boarding school where Scrooge spent lonely Christmas's alone. It makes Scrooge think of the boy who'd come caroling and sorry that he hadn't given him a bit of money. As you may remember, the Ghost of Christmas Past also takes Scrooge to a party given by his former boss Mr. Fezziwig. Kids can spin a wheel and set old Scrooge dancing round and round with his younger self and his former colleagues and friends. "Scrooge remembered the joy he used to feel around Christmas, surrounded by friends and a kind employer." He realizes that when money became the most important thing to him, he became sad and friendless.
When the clock strikes two, the Ghost of Christmas Present appears in the midst of an enormous feast, Nearby a fire quivers and crackles as kids spin the wheel. The ghost transports Scrooge to the window of Bob Cratchit's house, where he sees the large family having dinner. With a toggle, readers can set Tiny Tim's famous cheery toast in motion as Scrooge "marveled that the Cratchit family has so little and yet were so happy."
Scrooge didn't have long to wait until the Ghost of Christmas Yet to Come visited. In a cemetery, Scrooge saw Mr. and Mrs. Cratchit crying at Tiny Tim's gravestone. The sight broke his heart, but then the ghost pointed Scrooge to another stone. Who's is it? Children pull a tab that reveals the engraved name: Ebenezzer Scrooge. When he woke up the next morning, "Scrooge knew he must change." He went out into town spreading Christmas cheer and "became as good a man as the world had ever known."
Quotations from Dickens' original novel are sprinkled throughout the text, giving it the Old-World atmosphere that contributes so much to the effect of the story. With each visit of a ghost, Brooke Jorden includes a lesson that Scrooge learns or a memory he has of a recent time when he could have been generous or happy and chose not to, allowing young readers to understand how the ghosts affect Scrooge and how he changes in that night. Jorden chooses evocative language that kids will enjoy hearing and learning. Jorden's board book version of A Christmas Carol demonstrates anew the genius of Charles Dickens in this story that touches all ages and is ever timely.
Using fresh tones of red and green, David Miles brings 1800's England to life for kids. Bob Cratchit scratches away in his ledger with a quill pen and only a candle for light as thick snow falls outside the window. At home, Scrooge sits in a darkened room where the eerie, translucent ghost of Jacob Marley, wrapped in a chain, is sure to impress. Miles' image of the feast surrounding the Ghost of Christmas Present contrasts sharply with the small turkey and plum pudding on the Cratchit's table, a detail that will resonate with today's children just as it did when the novel was first published. The Ghost of Christmas Yet to Come is appropriately spooky, but not too frightening for young children. When Scrooge wakes up a changed man, the dark shades of Miles' pages give way to bright pinks and cheery aqua, and the icy blizzard has ended.
Terrific fun and a fabulous way to share this classic with kids (adults will get a kick out of it too), Lit for Little Hands: A Christmas Carol would be a quick favorite on home, school, and public library bookshelves.
—
Celebrate Picture Books