Godshot (Paperback)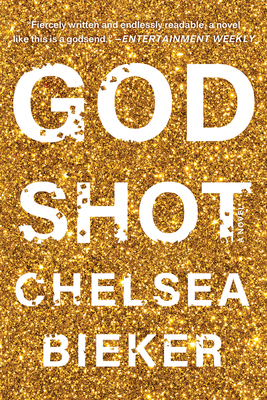 April 2020 Indie Next List
---
"Within the first chapter of Godshot, you can hear Chelsea Bieker's fist swinging toward you, but it still won't prepare you for the punch to the gut this book delivers. Lacey springs off the page in her first moments and takes you along with her on her dust-torn, glitter-stained, bloodied journey. Sometimes I get tired of being reminded how dangerous it is to be a woman (because, dammit, I KNOW!), but Bieker's prose is so beautifully consuming I found myself whipping through words that twisted my insides. What a resounding book."
— Amy Van Keuren, Savoy Bookshop & Cafe, Westerly, RI
Description
---
"Imagine if Annie Proulx wrote something like White Oleander crossed with Geek Love or Cruddy, and then add cults, God, motherhood, girlhood, class, deserts, witches, the divinity of women . . . Terrifying, resplendent, and profoundly moving, this book will leave you changed." —T Kira Madden, author of Long Live the Tribe of Fatherless Girls

Drought has settled on the town of Peaches, California. The area of the Central Valley where fourteen-year-old Lacey May and her alcoholic mother live was once an agricultural paradise. Now it's an environmental disaster, a place of cracked earth and barren raisin farms. In their desperation, residents have turned to a cult leader named Pastor Vern for guidance. He promises, through secret "assignments," to bring the rain everybody is praying for.

Lacey has no reason to doubt the pastor. But then her life explodes in a single unimaginable act of abandonment: her mother, exiled from the community for her sins, leaves Lacey and runs off with a man she barely knows. Abandoned and distraught, Lacey May moves in with her widowed grandma, Cherry, who is more concerned with her taxidermy mouse collection than her own granddaughter. As Lacey May endures the increasingly appalling acts of men who want to write all the rules and begins to uncover the full extent of Pastor Vern's shocking plan to bring fertility back to the land, she decides she must find her mother no matter what it takes.

Possessed of an unstoppable plot and a brilliantly soulful voice, Godshot is a book of grit and humor and heart, a debut novel about female friendship and resilience, mother-loss and motherhood, and seeking salvation in unexpected places. It introduces a writer who gives Flannery O'Connor's Gothic parables a Californian twist and who emerges with a miracle that is all her own.
About the Author
---
Chelsea Bieker is from California's Central Valley. She is the recipient of a Rona Jaffe Writer's Foundation Award and her fiction and essays have been published in Granta, McSweeney's, Catapult magazine, Electric Literature, and Joyland, among other publications. She was awarded a MacDowell Colony fellowship and holds an MFA in creative writing from Portland State University. Godshot is her first novel.
Praise For…
---
An Entropy Best Book of the Year

"[A] haunting debut . . . This is a harrowing tale, which Bieker smartly writes through the lens of a teenager on the cusp of understanding the often fraught relationship between religion and sexuality . . . It's a timely and disturbing portrait of how easily men can take advantage of vulnerable women—and the consequences sink in more deeply with each page." —Annabel Gutterman, Time

"Drawn in brilliant, bizarre detail—baptism in warm soda, wisdom from romance novels—Lacey's twin crises of faith and femininity tangle powerfully. Fiercely written and endlessly readable, a novel like this is a godsend." —Entertainment Weekly

"A spectacular novel . . . What follows is a gritty, gripping tale of girlhood, spirituality, and how salvation comes from the unlikeliest of places." —Esquire, A Best Book of the Year 

"[An] absolute masterpiece . . . Imagine if Annie Proulx wrote something like White Oleander crossed with Geek Love or Cruddy, and then add cults, God, motherhood, girlhood, class, deserts, witches, the divinity of women . . . Terrifying, resplendent, and profoundly moving, this book will leave you changed." —T Kira Madden, author of Long Live the Tribe of Fatherless Girls

"A nefarious religious cult right out of Gilead, a phone sex line, and a beautifully-rendered mother-daughter relationship—if you're not intrigued already, maybe there's no salvation for you. Think Maria Semple's Where'd You Go Bernadette meets Emma Cline's The Girls." —O, the Oprah Magazine

"Surreal . . . Godshot culminates in a dizzying depiction of childbirth—a true holy rite that instantly reveals the falseness of the rest." —The Wall Street Journal

"Depicting the ravages of economic disaster and the cruelty desperate people will accept in return for promises of a better life, Godshot is about patriarchy, extremist religion and their result, misogyny and sexual violence. And yet, despite being distressing at times, the book leaves room for light and a twisted sort of humor-even as Peaches spirals into darkness." —Los Angeles Times

"Godshot, from debut author Chelsea Bieker, is an unnerving tour de force. Exploring the gritty, confounding ways innocence—especially girlhood-clash with spirituality, family, love, and gender, the story follows 14-year-old Lacey, who lives in a Californian town paralyzed by drought." —Elle.com

"Try not to get excited about a book that's described as Flannery O'Connor's Gothic parables cut with a California twist." —San Francisco Chronicle