The New Science of Narcissism: Understanding One of the Greatest Psychological Challenges of Our Time—and What You Can Do About It (Paperback)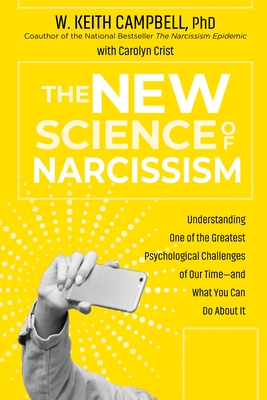 $19.99
Please contact us for more details
Description
---
Cut Through the Noise Around Narcissism with the Leading Researcher in the Field.

"Narcissism" is truly one of the most important words of our time—ceaselessly discussed in the media, the subject of millions of online search queries, and at the center of serious social and political debates. But what does it really mean?

In The New Science of Narcissism, Dr. W. Keith Campbell pulls back the curtain on this frequently misused label, presenting the most recent psychological, personality, and social research into the phenomenon.

Rather than pathologizing all behaviors associated with the label, Campbell reveals that not only does narcissism occur on a spectrum, but almost everyone exhibits narcissistic tendencies in their day-to-day behavior. Drawing from real-life incidents and case studies, The New Science of Narcissism offers tools, tips, and suggestions for softening toxically selfish behaviors both in yourself and others. Here you will discover:

• An exploration of personality disorders connected with and adjacent to narcissism
• Why minor narcissistic tendencies are common in most people
• The foundational difference between grandiose and vulnerable narcissism
• Different psychological models of personality and how they interpret narcissistic behaviors
• The "recipe" of mental and emotional traits that combine into narcissism
• How to identify when you're in a relationship with a narcissist and what you can do about it
• Why the 21st century has seen the rise of a "Great Fantasy Migration" into evermore insular subcultures
• The connection between narcissistic tendencies and leadership
• Why "the audience in your pocket" of social media has exacerbated culture-wide narcissistic tendencies

Though narcissism looms large in our cultural consciousness, The New Science of Narcissism offers many different options for understanding and treating it. With Campbell's straightforward and grounded guidance, you'll not only discover the latest and best information on the condition, but also a hopeful view of its future.
About the Author
---
W. Keith Campbell, PhD, is a professor of psychology at the University of Georgia, as well as the author of The Narcissism Epidemic, When You Love a Man Who Loves Himself, and more than 120 peer-reviewed articles. Keith lives in Athens, Georgia. For more, see wkeithcampbell.com.

Carolyn Crist is an independent journalist whose work has appeared in Reuters, Runner's World, and Parade, among others. For more, see carolyncrist.com.
Praise For…
---
"Narcissism is both widely discussed and widely misunderstood—which is why the world desperately needs a book like The New Science of Narcissism. Campbell and Crist explode the myths around narcissism and, in its place, build a solid understanding of what narcissism really is and how it displays itself across so many realms, from relationships to the workplace to social media. The New Science of Narcissism will give you what you need to better manage narcissism no matter where or how you experience it. —Jean M. Twenge, PhD, author of iGen: Why Today's Super-Connected Kids Are Growing Up Less Rebellious, More Tolerant, Less Happy—and Completely Unprepared for Adulthood

"This is a fascinating journey into research and theory on narcissism, from one of the world's leading experts on the topic. Although there is plenty of science, there are also concrete and useful tips on how to work with narcissists on a practical level. Most surprising is that they also consider the beneficial sides of narcissism, with suggestions on how to work with rather than against the narcissists who are an unavoidable part of the social world." —Kristen Neff, author of Self-Compassion

"This book provides a comprehensive, clear, and easy-to-read account of what we know and don't know about narcissism, guided by both influential theoretical accounts as well as the increasingly large and sophisticated research literature. Keith Campbell, a leading researcher in narcissism, presents this information in a down-to-earth, funny, and easily digestible manner that makes for a fun and breezy read on this important topic." —Joshua Miller, PhD

"This is an incredibly timely book given the prevalence of narcissism in politics, boardrooms, and social media platforms in the world today. This book arms you with the latest science to not only understand narcissism in its many forms—from the trait to the disorder—but also to apply it to your own life so that you can live your best life. This book is for everyone interested in learning more about this fascinating and often misunderstood topic." —Scott Barry Kaufman, PhD, author of Transcend: The New Science of Self-Actualization

"The New Science of Narcissism offers a comprehensive understanding of narcissism, a personality disorder that wreaks havoc on relationships. With historical examples, pop cultural references, and other sources that give insight into this malignant phenomenon, this fascinating and important book is also peppered with Campbell's down-to-earth wit and humor." —Karyl McBride, PhD, author of Will I Ever Be Good Enough? Healing the Daughters of Narcissistic Mothers and Will I Ever Be Free of You? How to Navigate a High-Conflict Divorce from a Narcissist and Heal Your Family